In this guide I want to outline the best campervan solar panels for your van build or conversion in 2021.
Effective and efficient methods for providing power will be a top priority for anyone embarking on a van life project, so deciding on the best solar energy system for your van is a big decision.
As solar panel technology has evolved over the years, buying and installing solar panels has become a realistic option for anyone starting their own camper van build.
Whether you want to invest in solar panels as a method of providing energy whilst living off-grid or you want to adapt your energy consumption to become more environmentally friendly, your van solar energy system will be a significant investment.
Whilst converting our Renault Master campervan we knew we wanted a solar kit to provide our energy. We wanted clean energy to ensure we were being environmentally friendly and we knew we needed a good power supply to cope with spending large periods camping off-grid.
So began our journey into the world of campervan solar panels!
Following a lot of research and after going through the practical experience of fitting our own solar panels, I can conclude that the best solar panel for campervans is the MiPV SuperFLEX 170W.
Solar Panels For Campervans At A Glance
Here is a quick summary of the top 4 solar panels I recommend for campervans in 2021.
Solar Panel
Reasons To Consider Buying
Price – $/$$/$$$

The Best Rigid Solar Panel For Campers

JA 325W Mono Percium Half Cell Solar Panel

Great value for money
Percium is the latest, highly efficient mono cell technology
Very robust

$

The Best Flexible Solar Panel For Campers

MiPV SuperFLEX 170W

Easy to install- peel & stick
Lightweight
Discreet
CIGS solar cells are better in low light that silicon cells

$$$

The Best Semi-Flexible Solar Panel For Campers

Grrengoods4u 150W Semi flexible solar panel

Less expensive than fully flexible panels
Easy to install using specialised glue
Lightweight
Discreet
Mono cells

$$

The Best Portable Solar Panel For Campers

SunPower portable folding 80W solar panel

Very lightweight
Folds to briefcase size
Comes with cable to attach to batteries 
Mono cells

$$
Note: All of these panels come in different sizes/wattage to suit your van size and power requirements. I purchased my solar system from Bimble who are a UK based company. If you need any extra help or advise on buying a setup for your van, shoot these guys an email and they'll be more than happy to help. Check out their Google reviews here!
To learn about leisure batteries for your campervan, take a look at this guide
The Best Rigid Campervan Solar Panel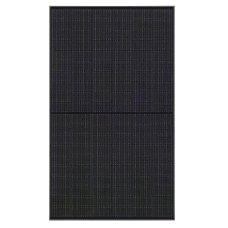 325W JA half cell mono percium –

Use these solar panels you're on a budget
This JA solar panel is the best value rigid solar panel on the market. For just £120, these mono percium panels provide 325W of power, which is enough to fulfil the need of most van lifers.
If you're on a budget, as we were when we converted our van, I highly recommend this solar panel. We were comfortable fitting our own panels and weren't too concerned about the need to be super stealthy.
We've camped in many non-designated camping spots over the last year and our rigid solar panels have never attracted any unwanted attention.
These panels are extremely robust, designed to handle the worst of the weather and come with a 12 year JA warranty. Over the last year we saw high temperatures of around 33 degrees (high for the UK!), have had snow, frost, hail and gale force winds and the panels have survived it all.
The biggest downsides of this panel are the weight at 19kg and the aerodynamic drag produced while driving. However, in practice the drag will only have a small effect on fuel consumption.
The Best Flexible Campervan Solar Panel
MiPV SuperFLEX 170W –

use these solar panels for a more streamlined van
This flexible solar panel is the absolute best choice solar panel for your campervan. If money was no object I would fit this to my van. 
The MiPV SuperFLEX uses the latest CIGS solar cell technology, which out performs silicon cells on many fronts. Compared to a similar panel constructed with silicon cells, this solar panel will perform better in low light as well as during the hottest part of the day.
Since they are not made of glass these panels are extremely robust, allowing you to walk on them if you so desire (maybe avoid the high heels though!)
Flexible panels are much lighter than rigid panels and are easier to install as they utilise a peel and stick system. The panels can bend to all contours of your campervan's roof, producing a very aerodynamic and discreet profile. 
The SuperFLEX panels come with a 5 year manufacturing warranty and a 10 year power output warranty.
The Best Semi-Flexible Campervan Solar Panel
Greengoods4u 150W Semi flexible solar panel –

use these solar panels if you're on a budget but want something easy to install
This semi-flexible panel utilises monocrystalline technology but in a much lower profile than the rigid panels. They have a metallic backing but no glass front, making them very lightweight.
They can be stuck to your van using specialist glue so are quite easy to install. As the name suggests, semi-flexible panels have a limited bending angle which is around 30 degrees, so they may not contour your van's roof as well as fully flexible panels.
They are more expensive than rigid panels but cheaper than fully flexible panels. They can be prone to scratches but are very aerodynamic and have a low profile.
These are a solid choice if you want something easy to install but can't stretch your budget to fully flexible panels.
The Best Portable Campervan Solar Panel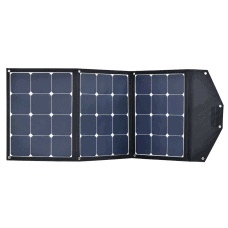 SunPower portable folding 120W solar panel –

use these solar panels if you have limited roof space
Portable solar panels are a great choice for anyone who doesn't need (or want) to have panels permanently fixed to their van. They are also ideal for smaller vans with limited roof space and for van lifers who need some extra power now and again.
This portable panel from SunPower has highly efficient monocrystalline cell technology, which can produce 80W from something which folds down to the size of a briefcase and weighs less than 2kg. It also has sturdy eyelets enabling the panels to be hung up in the best sun-harvesting locations.
This package also comes with all the wiring required to connect the panels to the battery, as well as a carry case to store the panels in.
Do you need a heater for your campervan? If so take a look at my recommendations for campervan diesel heaters
Factors to consider when choosing camper solar panels
Type of solar cell – Silicon or CIGS
Silicon: Monocrystalline vs Polycrystalline
Most solar panels are typically made from silicon cells. Monocrystalline panels are made from a single crystal of silicon whereas as polycrystalline panels are made from multiple silicon fragments melted together. The mono crystalline panels are more efficient at collecting energy but are also more expensive.
In real terms this 15-20% difference in efficiency simply means that the poly panels will need to be 15-20% bigger, to produce the same wattage as the mono panel.
If you need lots of power but have limited space, you will need to invest in monocrystalline solar panels. The good news is these are constantly coming down in price.
CIGS
CIGS is a technology specific to flexible solar panels, consisting of cells made from copper, indium, gallium and selenium. This type of cell is comparably lighter than silicon, more robust, performs better in low light and is less susceptible to performance drop off when temperatures are at their highest.
All these factors combined make CIGS technology perfect for campervans and motorhomes. However, all this does come with a hefty price tag.
Power – watt amount?
How much power does your van need? Fridge, lights, heater, water pump, TV?! How much power you require is a huge factor in choosing the correct solar panel for you.
If you need to work out your power usage I suggest using this power calculator by bimble. Once you know how much power your camper requires, you can start looking at panels with that wattage.
Your fridge will likely be the appliance with the biggest power requirements in your campervan. To discover the most energy efficient campervan fridges, take a look at this guide.
Size
The bigger the panel, the more power you will produce. As mentioned above, mono crystalline panels are more efficient so will require less space than the polycrystalline equivalent. The size of your panel will be influenced by how much room you have available on your van roof and how much power you require.
Portable or fixed solar panels
Fixed solar panels, are panels which are permanently attached to you van, either stuck directly onto the roof or mounted on a frame. This is the optimal set up for most van lifers.
However, it is possible to get portable or suitcase solar panels, which can be stored in the van and only pulled out when required. This may be more suitable for anyone who only uses the van occasionally.
Benefits of fixed panels:
Always collecting energy (as long they're in the sun)

Less hassle then pulling out and setting up portable panels every time
Downsides of fixed panels:
Increase the height profile of a van

Require some knowledge for correct installation

Need to be parked in the sun
Benefits of portable panels:
Easier to use – not as much special installation required

Can park in shade and place panels in the sun

More suitable for smaller vehicles

Good for being super stealthy
Downsides of portable panels:
Requires a stand alone power bank or plugging into a charge controller to link with leaser batteries

Needs setting up each time you park

Take up room inside the van

Need to stay with the van whilst using them
Discover all the must-have accessories for your campervan in this guide!
Rigid or flexible
Solar panels can be fixed on frames or they can bend and stick to the surface of your vans roof.
Benefits of rigid panels:
Sturdy

Built to withstand all types of conditions

Cheaper per Watt

No issues with overheating
Downsides of rigid panels:
More complicated to install

Not aerodynamic for driving

Heavy
Benefits of flexible panels:
Aerodynamic

Lighter then rigid panels

Easy to install

Discreet – perfect for stealth camping
Downsides of flexible panels:
Prone to scratches

Expensive

Less efficient than rigid panels since not all parts of panel are directly facing the sun

Can overheat in hot climates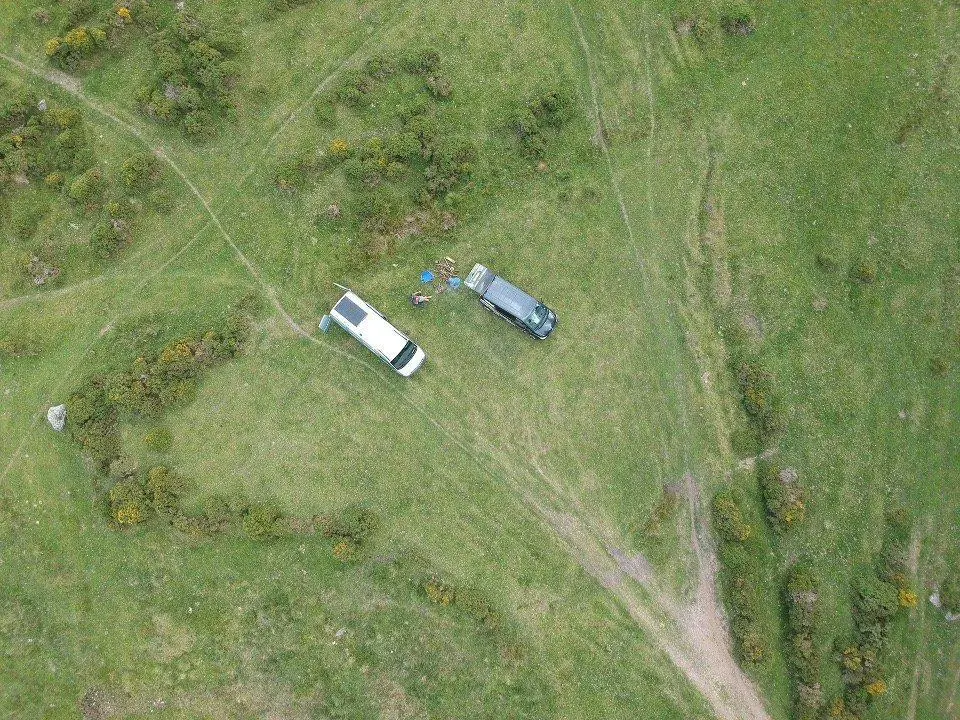 Do I need a solar panel kit?
Remember, solar panels are just one part of the solar power system required for your campervan. The other components in a solar power system are the wiring, a charge controller and a leisure battery. To get the most out of your solar panels, each of these components need to be of a similar quality.
Van solar panels are often sold in kits and these can seem like good value. However, it's only good value if you actually want all of the components in the kit. Decide what you want/need and then decide if there is a kit to match your needs. If not, buy the parts separately. From our research we didn't find any kits that offered us a significant saving.
Top Tip: Be weary of kits that provide PWM charge controllers or knock- off MPPT charge controllers. We initially tried to save money through buying a cheap charge controller which claimed to be MPPT but turned out to just have an MPPT sticker! This charge controller was a waste of time and shortly after, we invested in a real MMPT charger. The difference in output was huge and we felt confident we  were getting the most from our solar panels.
Campervan Solar Panel Summary
When choosing a solar panel for your campervan you will be faced with a number of choices. First you need to work out your van's power demands, then you need to decide if you want a permanently fixed panel or are happy with a portable panel.
If you decide on a fixed panel, next you need to determine what size panel will fit on your van. Now you know the wattage and physical size permitted, your budget will determine if you can afford flexible or rigid panels.
If you can afford flexible panels, such as the MiPV SuperFLEX 170W, they will be the easiest and best option for your campervan. However, if you're confident fitting rigid panels and are on a budget, a panel such as the JA 325w half cell mono percium will be your best bet.
Join My Newsletter Today!