Whether you're building a van for a new life or for a weekend escape, a refrigerator is an essential item for your campervan. 
However, with so many options on the market, choosing the best camper fridge in 2024 can be quite an overwhelming task. I certainly found this to be the case when looking for my campervan refrigerator.
In this guide I wanted to make life easier for all the campervan fridge hunters out there by doing the hard work for you. I looked through all the top van fridges in search of the best fridge and these are my results!
Disclaimer: Some links in this article are affiliate links, which means that if you purchase through them I receive a small commission, at no extra cost to you. This helps cover the cost of running this blog. Thanks for your support!
What is the Best Campervan Fridge?
The short answer is that if you want to spend long periods living in your van (more than just the odd weekend), then the best campervan fridge is a front loading compressor fridge, such as the Dometic Coolmatic CRX65 (Other sizes are available).
The CRX50, CRX65 and CRX80 fridges are equiped with a freezer which can be converted into extra fridge space if required. The compressor self regulates according to the ambient temperature which saves up to 25% in energy. This front loading style of fridge suits our van layout and works perfectly with a solar setup. The fan is incredibly quiet so there's no issue when the compressor runs at night.
However, the size, style and type of camper fridge will be specific to your own needs. Read on below to discover how you can choose the best fridge for a camper van.
Top 3 Campervan Fridges 
Fridges come in different styles so, from my research into all things fridge related, here is an overview of the best top loading, front loading and absorption fridges for campervans.
Fridge Type

Best 12v campervan fridge (Top loading)

Best 12v campervan fridge (Front loading)

Best 3-way absorption campervan fridge

Model
Alpicool CF45
(other sizes available)
Dometic CoolMatic CRX60 (50/80)
Dometic Combicool RF60
Size
45 litre
65 (45/78) litre
60 litre
Weight
12.7kg
17kg
20kg
Freezer
No
Yes
Yes
Power Usage
0.60kWh at 32°C
0.55kWh at 32°C
270g/24h on gas
Type
Compressor 12v/24v DC
Compressor 12v/24v DC
3 way absorption
Price


Find on Amazon


Similar Dometic fridge



Best price on ebay



CRX50 on Amazon


Find on Amazon



Find on ebay


It might appear that I'm sponsored by Dometic but I promise I'm not. They just make quality, robust fridges!
For larger fridges (80 litres plus) I recommend looking at the Dometic CRX120. These fridges are designed with energy efficiency in mind so are perfect for use with a solar setup.
How To Choose The Best Fridge For A Campervan
Before you can decide which campervan fridge is best for you, there are a few things you need to consider.
1. Budget
For many this may be the most important factor. If you're looking to build a van on a budget or you only plan to use the van now and again, buying the most expensive fridge simply won't be an option.
With campervan fridges it's mostly a case that you get what you pay for, so if you want a good product you will have to spend money. But if you want a van life it is an essential item, so be sure to incorporate this cost into your van build budget.
2. Fridge Volume
How big do you need your campervan fridge to be? If you plan to use your van for short weekend trips then a smaller sized fridge will be fine. Anything between 10 litres and 45 litres.
However, if you plan to live in your van or spend a decent amount of time living off-grid, you will need a bigger size. I would suggest anything upwards of 50 litres.
Do you want a freezer section in your fridge? If so this will eat into the amount of fridge capacity. I would suggest you only need a freezer section if you plan on spending long periods in your van and would like to freeze food. Ice cubes for your drinks on a weekend away are nice but not a necessity!
Finally the size of your fridge might be dictated by the size of your van. For example, a Mercedes Sprinter will accommodate a much larger fridge than a VW Transporter.
3. Power Consumption
Linked to the type and size of your fridge will be the power consumption. A fridge draws a lot of energy and can quickly drain a battery when parked up for several days, so choosing the correct type of fridge for your power supply is crucial.
Compressor fridges work best on the batteries whereas absorption fridges work best on gas. More about this in the next section.
Are you planning to spend most of your time on level campsites with mains hookups or will you mostly be off grid? If you're planning to spend most of the time off-grid then you'll need a fridge that can operate from power produced by your solar panels.
If you need help choosing the best solar panels for you campervan, take a look at this handy guide.
Bimble solar have a handy solar calculator that helps you work out how much energy you might need to power items in your van. Also remember solar panels are only part of the power equation and you'll need a good solar charge controller and leisure battery to cover the high energy demands of your fridge.
4. Types of Campervan Fridges
You'll also need to think about the type of fridge you want/need.
Compressor fridge (often called two-way fridges)

Absorption fridges (often called three-way fridge)

Thermoelectric coolers
1. Compressor Fridges
Compressor fridges are the same type of fridge most people will have in their house. They rely on a compressor unit powered by electricity to cool the refrigerator. However regular house fridges will draw 240/110v (UK/US), which is far too much for your van's leisure batteries which operate on a 12v system.
So there are two ways to run a compressor fridge:
through a 12v battery

through 240/110v mains power with an inverter.
However, as much as 50% can be lost through using an inverter so this is not recommended when energy is a priority.
The benefits of compressor campervan fridges:
they are low maintenance since they don't need regular servicing

they are energy efficient since they run intermittently, rather than constantly

they are built specifically for use in vehicles so don't need to be level to work. This makes them a popular choice with van lifers.
The downsides of compressor campervan fridges:
they are expensive to purchase.

they can be noisy whilst the compressor is running
Sale
2. Absorption Fridges
3 way absorption fridges rely on a heat source in order to provide the energy required to cool the fridge. Absorption fridges can be powered by gas, 12v or mains (240v/110v) and for this reason are known as three-way fridges.
The benefits of absorption fridges:
they are quiet to run

they can be powered by different sources

they are very efficient when running off gas.
The downsides of absorption fridges:
they need to be level to work correctly. This can be an issue for wild camping. This problem can be overcome by using levellers, which feature in my top recommendations for campervan accessories.

they must be installed correctly with proper ventilation

they require regular servicing

they are highly inefficient when running on 12v power (Our absorption fridge drained our leisure battery in just a few hours).
Sale
Smad Gas Fridge, 3 Way Fridge Camping, Silent Caravan Fridge, Lpg Fridge for Campervan, Motorhome, Lorry, Propane 30mbar, No Noise 0dB, 0-10°C, 60L
[3 Way Fridge, 12V 240V Gas] – This 3 way fridge can be used off-grid, or connected directly to the 12v cigarette lighter of a car, and can also be connected…
[Noiseless & Thermostat Control] – This absorption gas fridge runs completely silently. Light sleepers will appreciate this. It will make your body more relaxed…
[Low Costs & Long Life Span] – Low Gas Consumption: 5g/h Low Electricity Consumption: 240 Volt/12 Volt(90watts) 2.16 kWh/24 h, this 3 way fridge will save you…
[Easy & Safe to Use] – This caravan fridge is equipped with a reversible door that opens to the left or to the right to fully adapt to the space required….
[Adequate Capacity & Gas Ventilation] Fridge external dimensions = 46.2cm(width)*48cm(depth)*69.5cm(height), 60L capacity for storing more fresh food and beer….
3. Thermoelectric Coolers
Thermoelectric coolers are cool boxes that plug into the 12v socket (the cigarette lighter) of your car, so they use the engine battery to keep the box cool. This type of fridge is ideal for car camping or if you need the fridge to be portable. 
The benefits of thermoelectric fridges:
The downsides of thermoelectric fridges:
they don't get that cold

they are not very efficient
Sale
5. Styles of camper van fridges
Finally, you need to consider what style of camper fridge you require. There are 3 styles of fridge typically used in campervans.
Top loading

Traditional

Drawer
1. Top Loading or Chest Fridges
Top loading fridges are quite popular for van lifers for two big reasons. They are typically more energy-efficient than front loaders (heat rises so when you open a top loading fridge it's mostly hot air that escapes) and because you can stack up and store more food. Another advantage is that many options are very portable allowing them to be used in other vehicles or on picnics.
However, top loading fridge aren't always the best use of space since you can't store anything above it. As we know, making the best use of space is essential for van living. One way to overcome the access from above issue is to fix the fridge on a slider cabinet or place the fridge within a seating arrangement. It all depends on the layout of your van.
My other big annoyance with top loading fridges is that so much gets crammed into them it becomes a huge jigsaw trying to get things in or out. It's the same reason I don't have a traditional top loading backpack for travelling and instead prefer using a duffel style bag.
Alpicool CF55 55L Car Refrigerator Portable Car Fridge Freezer 12/24v Campervan Boat DC Electric Cooler for Camping, Driving, Picnic
★ Excellent Cooling Performance and effective heat preservation. CF55 car refrigerator can reduce the internal temperature from 25°C (77°F) to 0°C (32°F) in just 15 minutes. After…
★3-Level Battery Protection Mode, Effectively Protect Battery. Alpcool portable refrigerator can protect your car battery from exhaustion. When the output voltage is insufficient, the…
★ 55L Large Capacity, Partitioned Storage. It can be a fridge or freezer for storing many types of food and items. When the temperature drops below 0℃(32℉), the freezer room can freeze…
★ Multiple Uses. The refrigerator is equipped with DC and AC cords to meet the needs of outdoor and indoor use at the same time, and is suitable for various occasions, like self-driving tour,…
2. Front Loading Fridges
Front loading fridges are what most people have in their homes. These are also popular with van lifers since the issue of usable space above or below the fridge isn't a problem.
They may not be able to store as much as top loaders but everything is easier to access. The compartments allow easy organisation of food and drinks.
For example milk or juice can be easily stored in the door without fear of it falling over and spilling. Meat can be kept at the bottom so if any pesky meat juice escapes it doesn't spill over everything else! I also find them easier to clean than top loading fridges.
3. Front Loading Drawer Fridges
This type of fridge is similar to the top loading fridge design, except that the compartment slides out to the front on a draw. Everything is stacked much like you would in a top loading fridge, so it fits more food than a typical front loading fridge but less than a top loading fridge.
It's not as efficient as a top loading fridge since the whole draw has to be opened to gain access and they are quite difficult to purchase online. This design is handy if you want a top loading fridge without having to build a sliding draw cabinet around it.
Choosing A Campervan Fridge
When we bought our van it came fitted with a two-way Electrolux absorption fridge, which could run off electricity or gas. We wanted to live off grid and didn't want to rely on gas to fuel our fridge, so we installed solar panels.
However, we soon discovered that this type of fridge wasn't very energy efficient when running on 12v and quickly depleted the batteries. So the hunt was on for a more energy efficient fridge! (And some better leisure batteries – read more about the best leisure batteries in this guide!) 

We spent a long time researching and deciding which fridge to buy as it was easily the single most expensive thing in our van. After our research we decided the best van fridge was the  Dometic Coolmatic CRX65 fridge freezer (other options of this fridge are available CRX50, CRX80 and CRX120).
The Dometic Coolmatic CRX65 is the best campervan fridge because:
It has low energy consumption (0.34kWh at 25°C), so is suitable for use with solar panels

It has a removable freezer compartment

It's large enough to store food for two people, 57 litres(other sizes also available)

It's quiet to run

It's produced by a reputable brand who have been making fridges for decades

The front loading design suits

 

many van layouts.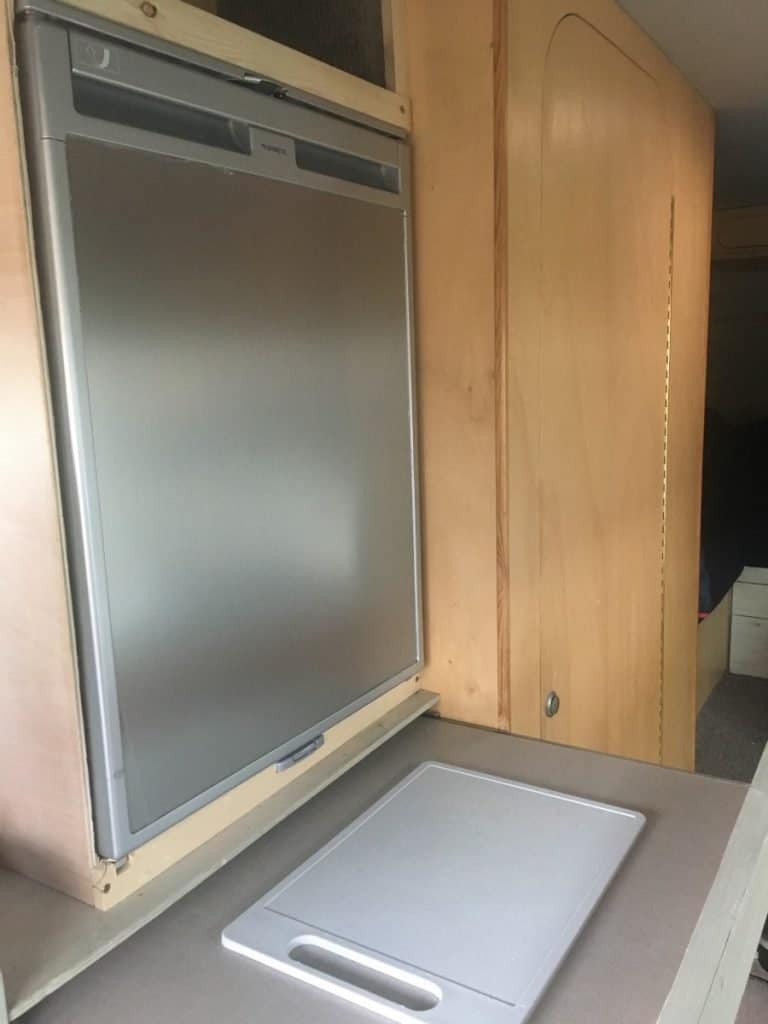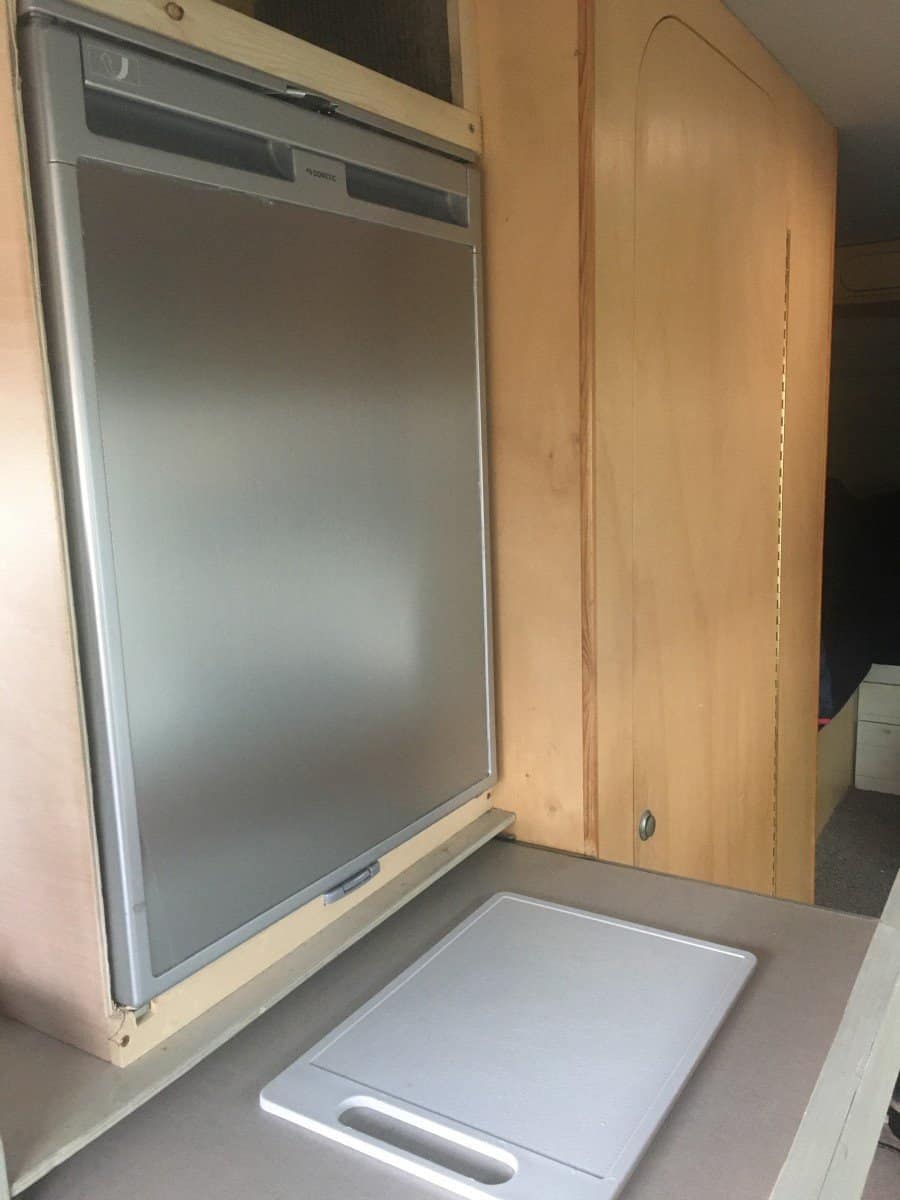 If you're planning to live in your van over the cold winter months read my essential tips to surviving winter van life and discover why I recommend a diesel heater in this handy guide
Related Reading
Top Tips For Keeping Your Campervan Fridge Cold!
→ Load 'er up! Fridges work best when they're full, so keep the fridge loaded at all times.
→ Fridges work hardest trying to cool things down, so buy cold products and keep them cold, rather than buying warm products and trying to cool them down.
→ Open the door slowly. Yanking the door open quickly draws a big amount of air from the fridge.
→ Keep the door closed! Avoid going in and out of the fridge constantly, as this causes cool air to escape and draws a lot of power.
→ Give the fridge room to breathe through the use of ventilation.
Final Thoughts On The Best Camper Van Fridges
There are many factors to consider when picking the best fridge for your campervan. A fridge is a big investment and in most cases you get what you pay for, so be prepared to budget accordingly.
Compressor fridges are better suited to van lifers since these work better off solar energy and don't need to be level to work properly. Absorption fridges are better for caravans and motorhomes.
Top loading fridges are more energy efficient whereas front loading fridges offer easier access to food. The choice between top loading or front loading fridges will likely be determined by the layout of your van and personal preference.
Join My Newsletter Today
Lou is an overland adventure tour leader and has lived on overland trucks since 2013. In the Spring of 2020 Lou and her boyfriend Nick bought a partially converted campervan and have upgraded it to live fully off-grid.