A solar charge controller is a piece of equipment that takes the electricity produced by your solar panels, converts, and optimises it for storage in your leisure batteries, so that you can run the electrical equipment on your campervan, motorhome or RV.
There is an awful lot of science involved when it comes to solar systems and controllers, however in this post we will stick to the basics so that you can easily decide what charge controller might best suit your campervan, motorhome or RV.
Disclaimer: Some links in this article are affiliate links, which means that if you purchase through them I receive a small commission, at no extra cost to you. This helps cover the cost of running this blog. Thanks for your support!
The Best Campervan Solar Charge Controller
Short on time and want to get straight to the nitty gritty? No worries! From our research and experience of living full time in our van for 2 years, the best solar charge controller is the Victron Smart Solar MPPT charger since it's reliable, robust, compact and has bluetooth monitoring so can be fitted anywhere in the van.
For more information, read on below.
Why Do We Need a Solar Charge Controller?
Solar panels will produce electricity at a different voltage to the one your campervan utilises. Most UK campervans and motorhomes will operate using a 12 Volt power system with a 12V battery or batteries. Systems that run on 24 Volts are possible but normally only on larger vehicles such as large motorhomes, trucks and buses.
A solar charge controller takes the power from your panels and converts it into the power required by your battery system (for example 12V). The best solar charge controllers do this in a very efficient way which offers a level of protection to your system, whilst maximising the efficiency and lifespan of your batteries. 
Most modern charge controllers can work with most or all of the batteries available for campervans. To better understand campervan leisure batteries, be sure to read this guide.
There Are 2 Types of Solar Charge Controller to Consider 
PWM – Pulse Wave Modulation
Without going into too much detail, this is older technology and as such is tried and tested, reliable and robust. 
These are best suited to smaller, simpler solar setups and ideal if you are on a very tight budget. Also if your van spends most of the time parked up on the drive and is used for occasional trips, this might be a cheaper, simpler option.
These charge controllers are best suited when the power produced by the solar panels closely matches that of your batteries. Be aware there are many cheap generic PWM chargers on the market that may not provide good reliability. 
MPPT – Maximum Power Point Tracking
I would suggest this is the best option for the vast majority of systems, especially where maximum performance is required. MPPT controllers are up to 30% more efficient than PWM controllers and are best suited to systems where the power produced by the panels is higher than the power required by the batteries. 
Unless you are specifically looking for a small or basic setup, I would personally not look beyond an MPPT charge controller. We initially fitted a PWM controller to our 270W panel and struggled for power in a UK summer. When we changed to our 30A MPPT charger the difference was like day and night and our controller has now run non-stop ever since.
Modern MPPT chargers are reliable and will accurately monitor your charging system and condition of your batteries. They work well in all conditions and are compatible with all types of battery.
For most DIY campervan conversions, the solar panels are usually mounted flat on the roof of the van rather than angled towards the sun, so maximising the output from your charge controller is crucial to obtain maximum performance.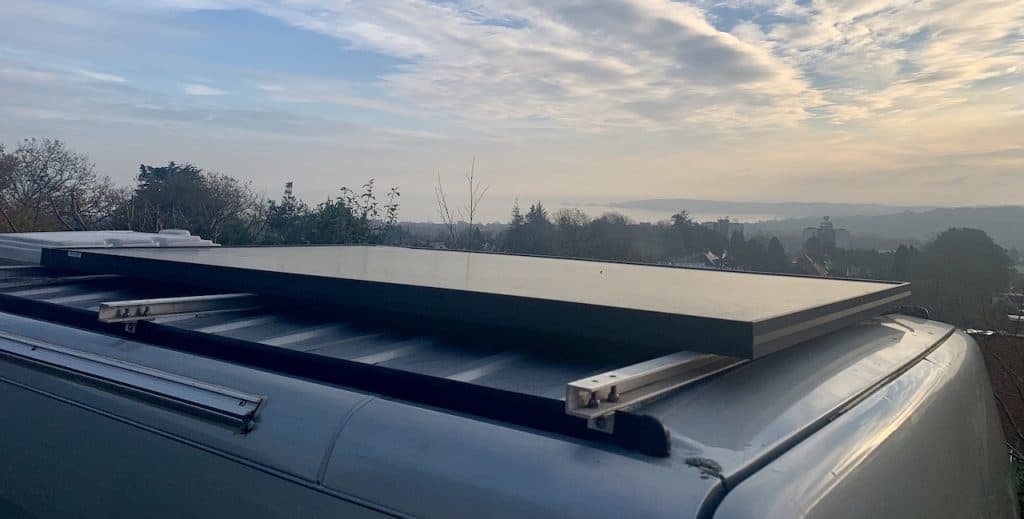 Considerations When Choosing a Solar Charge Controller
How much power will I need?
Before choosing any part of your solar system setup you need to work out how much power you will use. This involves calculating the electrical demand of all appliances such as your fridge, lights, inverter, heater and gadgets.
The easiest way to determine this is through using an online calculator which will allow you to work out the size of panel and battery storage required. I suggest you consider rounding up the panel sizes a calculator comes up with, as there will always be cloudy or rainy days plus over capacity will extend your vanlife season.
If you need your solar system to power you through winter vanlife, your calculation needs to take the typical sunlight hours into consideration but also remember that a solar panel fitted flat to the roof will not produce much when the sun sits so low in the sky.
How big does my charger need to be?
Charge controllers are rated in Amps. For example, a small controller might be 10 amps, then you can get 15A, 20A, 30A and so on. To work out the size of controller required, there is a fairly simple calculation which is: W/V=A
To work out what size controller you need, take the total output of your panel or panels quoted in Watts then divide this figure by 14.4  if using a 12V system (Divide by 28.8 for 24 V systems). This will give you your maximum output in Amps. For optimum efficiency your charge controller needs to be one third larger than this figure.
Here is the example from our van:
Our van is fitted with a 270W panel and 12V Leisure battery
270w divided by 14.4v

= 18.75A
so we opted for a 30A charge controller, which is the closest to one third more than 18.75.
If you had 400W of output from your panels then it would be advisable to go with a 40A or 45A controller for optimum performance.
To make things easier, here is a table to match panel output to charge controller size.
Panel output

                     

Charge controller needed
100W
10A
150W
15A
200W
20A
300W
30A
400W
40A
600W
60A
800W
100A
Am I likely to add more panels in the future
? 
If you are likely to add more capacity in future then it might be worth considering going for a higher capacity charge controller from the onset. However if you have worked out your power requirements correctly there should be no need to add more. For more information on the best solar panels for campervans, take a look at this guide or if you're unsure whether to get rigid or flexible solar panels, read this guide.
How should I fit my charge controller?
It is crucial to fit your controller correctly to prevent damage. If you have any doubt, then get professional advice. Most units need to be connected to a battery before attaching your solar panels (or switching them on).
A suitable isolator/trip switch should be installed between the panels and your controller to protect the controller from overloads and also to allow you to isolate the controller from the panels before changing the battery or working on the wiring in any way.
Wiring up your charge controller correctly is vital if you want to get the best performance and lifespan from it. If in doubt hire a professional to fit or advise you.
Where am I most likely to fit my charge controller?
Many units come with an integral display which shows charging information. If you go with one of these you will most likely want to fit it somewhere you where you can read the screen to monitor your battery charge etc. Units without a screen can be fitted anywhere and maybe out of the way so long as there's adequate ventilation for them. You can also get a separate remote display for some controllers.
Many modern charge controllers can now be connected to an app on your smartphone, so you can monitor the performance of your solar system.
The 4 Best Solar Charge Controllers For Campervans
You won't go far wrong with this high quality and versatile charge controller that should keep your solar system performing at its best for years to come. Top of the range performance for campervans, mobile homes and static installations alike.
Why buy it?
A well respected brand in the industry.
Well made reliable units should last for years.
Easy to install and operate. 
Compact.
Available in a wide range to handle different power outputs.
Since these controllers have no screen, they can be fitted in variety of locations.
A remote display is available should you require one.
Possible to monitor using a smartphone via bluetooth.
Has many smart features to ensure maximum performance and lifespan of your whole system. 
Built-in protection for your batteries. 
A top reliable option from Renogy with a built-in screen and optional bluetooth for smartphone monitoring. This is an ideal choice of charge controller for use in a campervan.
Why buy it?
Good brand with a range of compatible equipment suitable for campervans.
Great reliability.
Nice clear screen.
Optional smartphone monitoring (opt for bluetooth module)
Offers great protection to batteries and smart charging capability.
Support available from recognised brand.
Useful information and tools available on Renogy website.
This is a neat charge controller with a simple display that offers reliable control of your solar system.
Why buy it?
Reliable: We have a 30A version of this charger which has been operating non-stop since we fitted it in 2020.
Nice built in screen displays: Power produced by panels in Amps, battery charge %, battery temperature and total power produced.
Easy to set up and use. 
Good value option.
Offers good protection and optimal charging of batteries. 
Easy to install.
Good support if bought from Bimble Solar.
This reliable unit from Renogy is a good budget option. It's waterproof so can be used in specific installations such as external fitting or on boats.
Why buy it?
A reliable no nonsense controller.
Waterproof: Ideal for boats, fitting outside such as caravan or shed installations, or in areas where damp may be a concern.
Great for those on a budget.
Compact. 
Good option for small systems, such as where you only want to run some lights and a phone charger. For example, if you only use your campervan for occasional weekends.
Constructed of fewer components therefore less likely to malfunction and cheaper to replace.
Ideal for remote applications such as a static caravan, shed or semi-permanent camp.
Related Reading
Final Thoughts on Campervan Charge Controllers
When fitting a solar system to your campervan or motorhome it is important to fit good quality components which are compatible with each other and your requirements. Your charge controller is central to your whole system and as such investing in efficiency and reliability is a must. A good charge controller can extend the life of your batteries and keep you informed as to the performance of your system overall.
There are many products available and I have listed four of the best options for your system. All of these charge controllers come in a range of options to handle various power requirements and will provide good performance and reliability for years to come.
MPPT charge controllers are more efficient and are recommended for full-time vanlifers whereas PWM charge controllers are better suited to small solar setups such as those used by part-time van dwellers.
Be sure to work out your power needs before buying any products. Renogy and Bimble both have good online calculators and other tools to help design a good solar system. With all Solar charge controllers it is crucial carry out installation correctly to avoid damaging them. Please ensure you follow fitting instructions correctly and get professional help if you have any doubt.