If you are a nature enthusiast seeking an awe-inspiring adventure, look no further than Snowdonia (Eryri), a stunning national park nestled in the heart of North Wales. Known for its majestic mountains, lush valleys, and pristine lakes, Snowdonia offers a plethora of breathtaking landscapes to explore.
Among its many natural wonders, the cascading waterfalls stand out as some of the most mesmerising and captivating attractions. From large, single-drop torrents at the head of mighty valleys to small, tumbling cascades meandering through wooded gorges, there is a huge selection of waterfalls to explore.
In this comprehensive guide, I invite you to join me in discovering the best waterfalls Snowdonia/Eryri has to offer.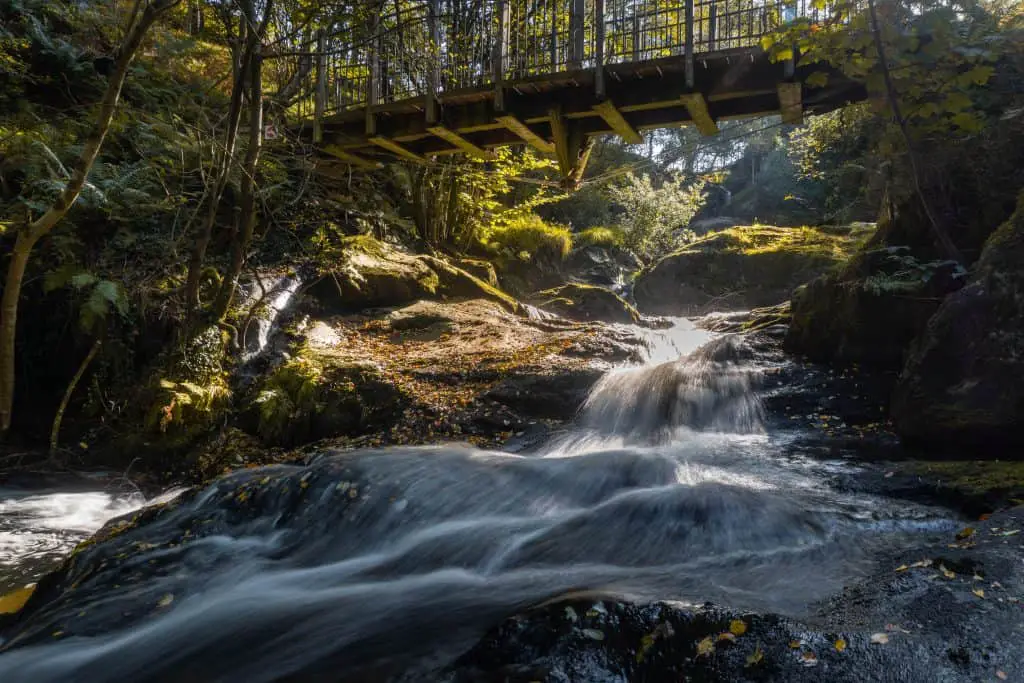 Disclaimer: Some links in this article are affiliate links, which means that if you purchase through them I receive a small commission, at no extra cost to you. This helps cover the cost of running this blog. Thanks for your support!
Know Before You Go
Many of the access roads to these popular Welsh waterfalls are single-track 'B' roads, with few passing places and limited parking.

Car parking at these scenic areas is often pay and display with machines only accepting coins (at least pre-covid!), so be prepared and take cash.

Some of the popular Welsh waterfall walks can get very crowded in the summer months. However, waterfalls are best viewed after recent rain which makes them an ideal activity for the quieter months in Autumn and Winter.
The trails to many of these waterfalls can be muddy and slippery, especially after heavy rainfall so please take extra care in the wet months and ensure you have suitable footwear. Be sure to pack a raincoat if you don't want to get wet from the spray!
A few handy Welsh words to know include rhaeadr (pronounced hrhai-uh-dur) which means waterfall, Afon (pronounced Ah-von) which means river and Nant (pronounced nant!) which means stream.
7 Must-Visit Snowdonia Waterfalls
1. Swallow Falls (Rhaeadr Eynnol)
Swallow Falls, located near Betws-y-Coed, is one of Snowdonia's most iconic waterfalls and a top tourist destination in North Wales. The Afon Llugwy (river) tumbles down in a series of mesmerising cascades, creating a spectacle of water and mist.
Visitors can enjoy excellent viewpoints from nearby platforms which are accessed via an entrance gate on the A5. Free parking is available on the A5 laybys, although a small entrance fee is required to access the viewing platforms. A longer walk along the north bank can be enjoyed from Betws-y-Coed itself.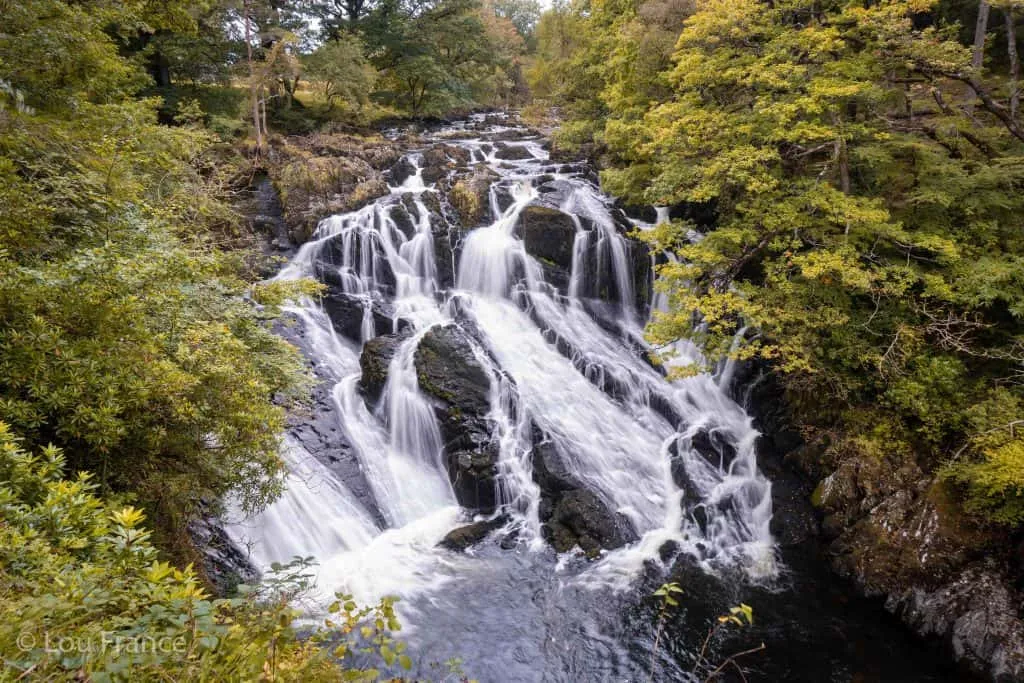 2. Aber Falls (Rhaeadr Fawr)
Aber Falls, or Rhaeadr Fawr in Welsh, is a magnificent waterfall situated in the northern region of Snowdonia/Eryri. The 37m waterfall tumbles down a rock face flanked on either side by lush vegetation, making it a photographer's dream. Aber Falls is a Snowdonia waterfall you definitely shouldn't miss.
Access to Aber Falls car park is along a small lane from the village of Abergwyngregyn. From the parking area, the well-maintained walking trail takes you along the Aber valley to the base of the mighty waterfall. The trail is around 2km and is worth every step.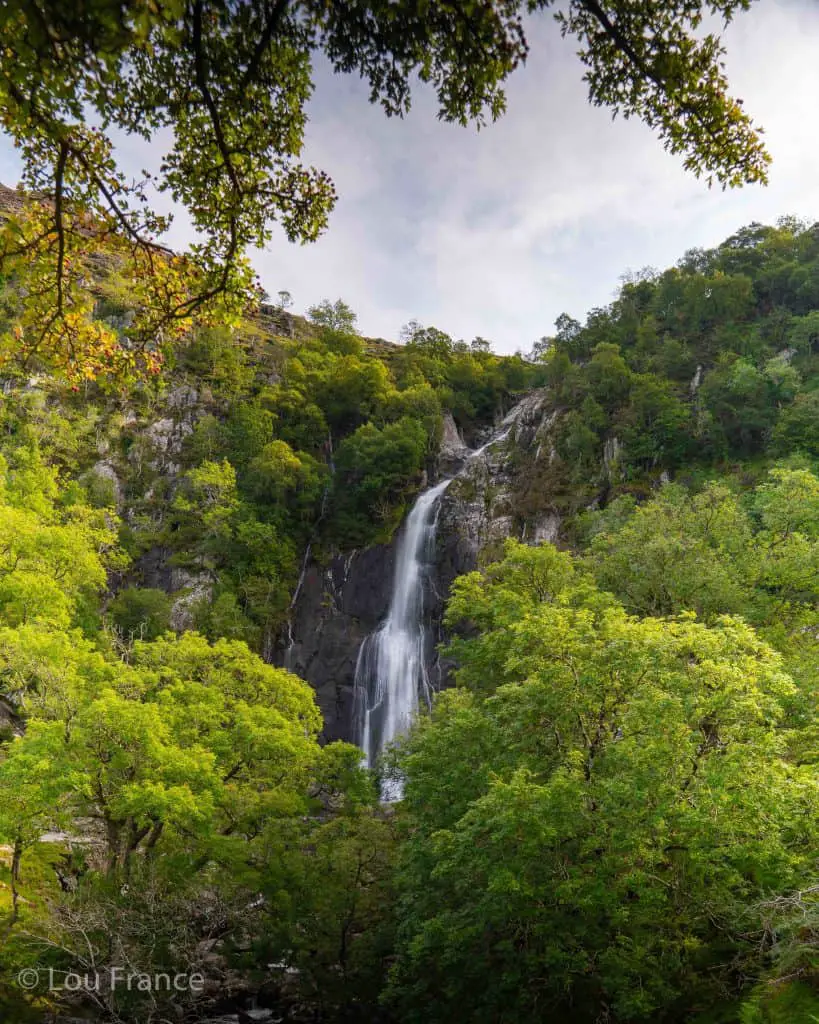 If you like this content consider giving me a follow on social media
3. Conwy Falls (Rhaeadr y Craig Lwyd)
Found in the Machno Valley, Conwy Falls is a collection of waterfalls that thunder around a central island. This Snowdonia waterfall descends through the narrow gorge of Fairy Glen, creating a magical atmosphere amidst the surrounding woodlands.
The English name for the waterfall is taken from the river along which it sits, the Conwy River, as opposed to being located near the town of Conwy itself. In fact the Conwy Falls are nestled amongst 10 acres of native woodland dedicated as an SSSI.
Conwy Falls can be viewed from a trail that begins at the Conwy Falls Cafe, not far from Betws-y-Coed. Parking at the cafe is free but access to the trail requires a small entrance fee.
4. Llanberis Waterfall (Rhaeadr Ceunant Mawr)
Ceunant Mawr is a delightful waterfall tucked away in a narrow, mossy gorge. The waterfall plunges over thirty metres in two stages to a pool below, although no swimming is permitted in this particular pool.
Ceunant Mawr is easily accessible via a short walk from the town of Llanberis where there are multiple options for parking. The walk to the base of the falls is signposted and easy to follow, however accessing viewing points above the falls requires a little more effort along rocky, dirt paths.
The most obvious parking option is the forecourt of the Snowdon Mountain Railway which is also the starting point for one of the popular walking routes of Snowdon (Yr Wyddfa).
Read Next
5. Nantcol Waterfalls (Rhaeadr Nantcol)
Nestled deep within the Nantcol Valley, the Nantcol Waterfalls offer a serene retreat away from the hustle and bustle of everyday life. The cascading falls are surrounded by lush woodlands, creating a peaceful sanctuary for visitors seeking solace.
Rhaeadr Nantcol is accessed via the Nantcol Waterfalls Campsite, near Llanbedr where parking fees apply. An easy to follow, marked trail leads initially to a wooded gorge with a single drop waterfall. Continuing along the route, the landscape opens up to reveal a large tumbling cascade, perfect for cooling off on hot summer days.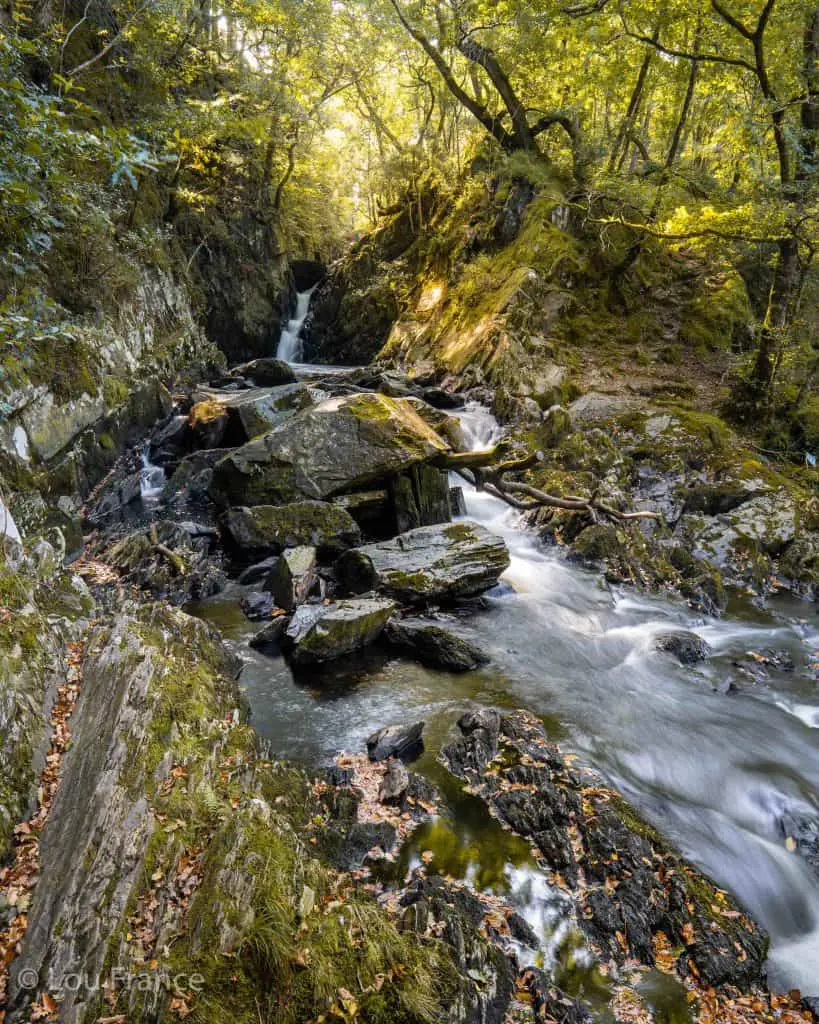 6. Dolgoch Waterfalls (Rhaeadr Dolgoch)
Dolgoch is one of the finest gorge walks in Snowdonia/Eryri. This atmospheric river walk is located in the quieter region of southwest Snowdonia, near the town of Twyn. Along the walk you will see two large, multi-tiered waterfalls as well as several small cascades, deep pools and moss-covered rocks. At the end of the walk there is a pretty picnic area to rest before the return journey.
Parking is pay and display and there is a cafe to replenish after your walk. There are some steep steps that lead up through the gorge which can be slippery so pack grippy shoes for this walk.
For more information on top walks in Snowdonia, see this guide.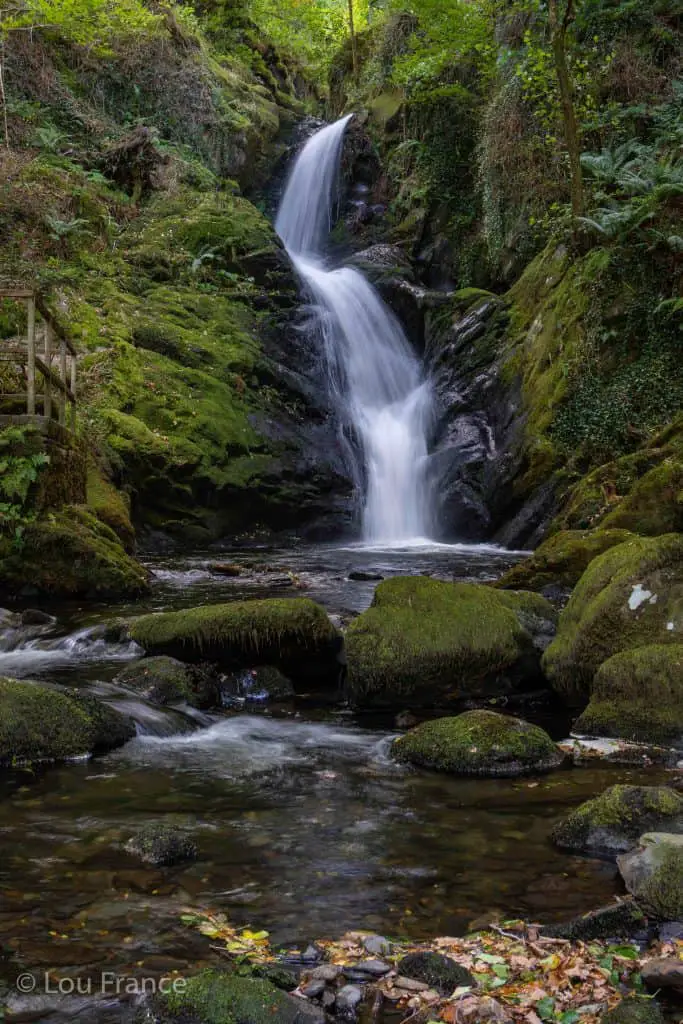 7. Pistyll Rhaeadr
I've sneaked Pistyll Rhaeadr onto this list as, although it's technically not located in Snowdonia National Park, it's too impressive to leave out! Meaning Spring of the Waterfall, Pistyll Rhaeadr is a mighty three- stage waterfall that drops over 73m.
The largest single drop section is around 40m and one of the drops flows through a natural rock arch which only adds to its majesty. Although it isn't the tallest single drop waterfall in Wales, as it is often claimed (that accolade goes to the Devil's Appendix next to the Devil's Kitchen at Cwm Idwal), it surely is one of the most impressive waterfalls found in Wales.
Reaching Pistyll Rhaeadr can be quite the challenge in busy summer months since it's accessed via a four mile, single track road from Llanrhaedr ym Mochnant, so it's best to arrive early in the day. There is limited free parking on the road or a paid parking in the designated car park.
Accessing Snowdonia Waterfalls
Most of the waterfalls on this list are found in remote locations and are not serviced by public transport. The exceptions being Swallow Falls which can be easily accessed from Betws-y-Coed and Ceunant Mawr which is just outside Llanberis.
The best way to visit the rest of the waterfalls is through using a car. For good deals on rental cars in the UK, try Rental Cars.
Final Thoughts On Waterfalls In Snowdonia
Snowdonia's waterfalls are a testament to the sheer beauty and grandeur of nature. Each waterfall has its unique charm, from the power and grandeur of Aber Falls to the secluded wonderland of Dolgoch. Whether you're an avid hiker or a casual admirer of nature's wonders, these waterfalls promise an unforgettable experience that will leave you in awe.
So, don your hiking boots, grab your camera, and embark on an adventure to explore the best waterfalls in Snowdonia. Witness nature's artistry at its finest as you discover these breathtaking wonders tucked away amidst the stunning landscapes of North Wales.