As a country carved by glaciers in the last ice age, the landscapes in Wales comprise of mountains, valleys and an abundance of waterfalls. Waterfalls in Wales are often steeped in legends and myths and are rumoured to be the entrance to magical fairy kingdoms. 
Growing up with beautiful cascades quite literally on my doorstep, I've always had a love for Welsh waterfalls. With most of my early explorations almost exclusively based in my native South Wales, I recently embarked on a road trip across the length and breadth of this small mountainous land, dedicated to discovering the most beautiful of all Welsh waterfalls.
I originally planned to limit this list to just ten but since I couldn't decide which ones to leave out, I instead compiled a list of the top 15 prettiest waterfalls in Wales. Stay tuned for a few waterfalls that you won't find on any other guides!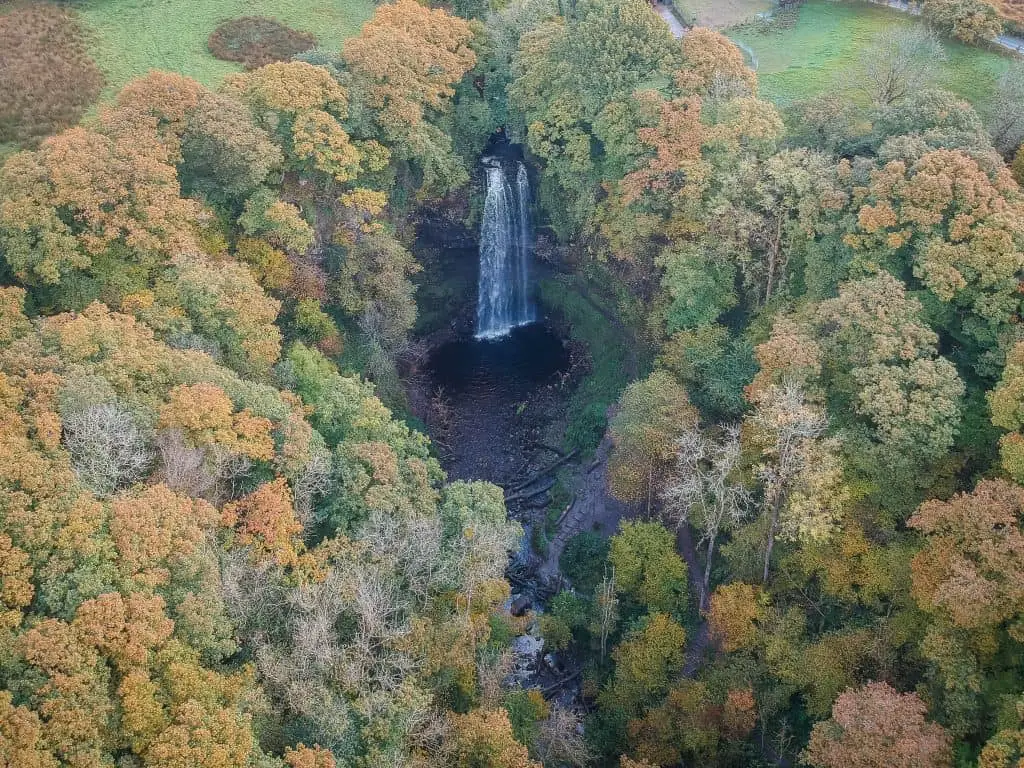 Disclaimer: Some links in this article are affiliate links, which means that if you purchase through them I receive a small commission, at no extra cost to you. This helps cover the cost of running this blog. Thanks for your support!
Waterfalls Of Wales Map
Most of the waterfalls of Wales are concentrated in and around the mountainous national parks of Bannau Brycheiniog (Brecon Beacons) and Eryri (Snowdonia). For a complete guide to waterfall walks in the Brecon Beacons see this post and for the best waterfalls in Snowdonia, see this guide.
Here's a map you can use to plan your route.
Things To Remember Before Your Visit To A Welsh Waterfall
Many of the access roads to these popular Welsh waterfalls are single-track 'B' roads, with few passing places and limited parking.

Car parking at these scenic areas is often pay and display with machines only accepting coins (at least pre-covid!), so be prepared and take cash.

Some of the popular Welsh waterfall walks can get very crowded in the summer months. However, waterfalls are best viewed after recent rain which makes them an ideal activity for the quieter months in Autumn and Winter.
The trails to many of these waterfalls can be muddy and slippery, especially after heavy rainfall so please take extra care in the wet months and ensure you have suitable footwear. 
You will notice different words for waterfall on your travels in Wales. In South Wales you will see the word sgwd (pronounced skood), which translates to cascade or fall. In North Wales you will see rhaeadr (pronounced hrhai-uh-dur) which translates to waterfall.
If you'd like to learn how to pronounce more Welsh words, take a look at this post!
The 15 Best Waterfalls In Wales
Waterfalls are one of nature's wondrous creations which can be enjoyed no matter what the weather throws at you. This is quite handy in a country that receives as much rain as Wales does!
Most of the waterfalls on this list are easily accessible by foot, so put your walking shoes on and embark on an enjoyable escape into the Welsh countryside!
1. Pistyll Rhaeadr
Height: 73m
Accessibility: Easy
Meaning Spring of the Waterfall, Pistyll Rhaeadr is an impressive three stage waterfall, with a total drop of 73m. It's often referred to as Wales' tallest waterfall or Wales' tallest single drop waterfall, but this is actually untrue (as I just mentioned, it is a 3 tiered waterfall for a start!).
Wales' tallest single drop waterfall is in fact the Devil's Appendix, which is located near the Devil's Kitchen in Eryri (Snowdonia) National Park. 
Pistyll Rhaeadr is however, counted as one of the Severn Wonders of Wales and is definitely one of the most impressive waterfalls in Wales.
Reaching Pistyll Rhaeadr can be quite a challenge in busy Summer months, since the only access is via a 4 mile single track road from Llanrhaeadr ym Mochant. If you happen to arrive as people are leaving, you can spend a lot of time reversing!
Entrance to the waterfall site is free but parking in the grounds costs £5. There is limited parking outside the gated car parking but this fills up fast so get there early in the day.
Top Tip: Combine your visit to Pistyll Rhaeadr with a trip to nearby Lake Vyrnwy. For the most incredible views over this lake, treat yourself to a night in Lake Vuynwy Hotel & Spa. I guarantee you won't be disappointed!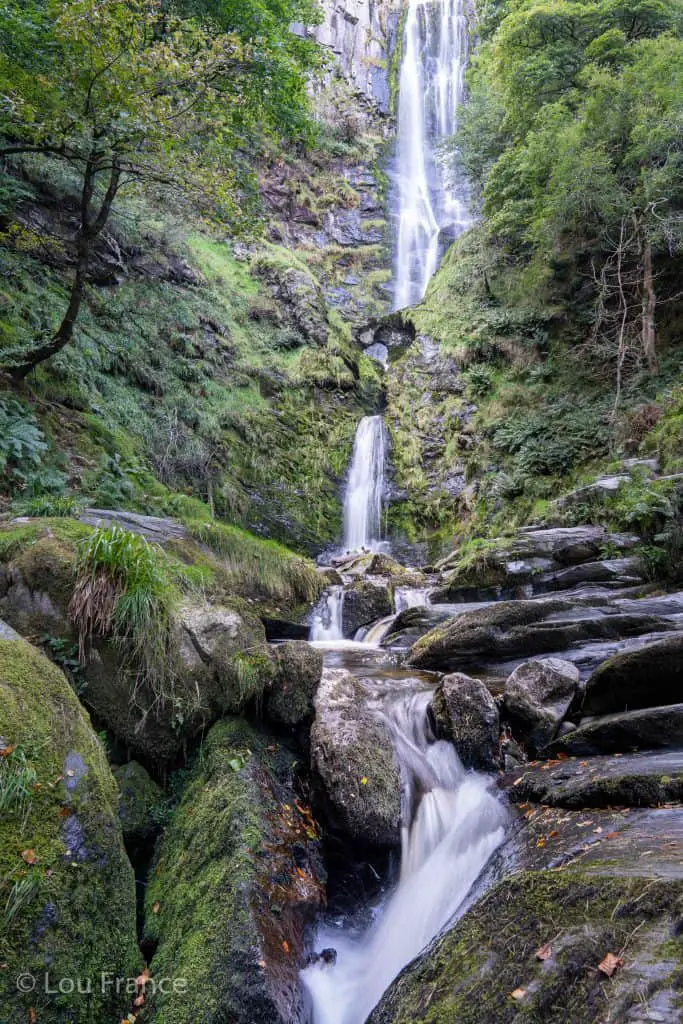 2. Swgd Ddwli Isaf and Sgwd Ddwli Uchaf
Height: 10m and 4.5m respectively 
Accessibility: Moderate
The Elidir trail, which starts in the village to Pontneddfechan, is a walk in Waterfall Country that is home to several spectacular waterfalls. Two of these impressive falls include Sgwd Ddwli Isaf (Lower Gushing Falls) and Sgwd Ddwli Uchaf (Upper Gushing Falls).
The easy, family-friendly Elidir trail walk has two spurs. After crossing the river, taking the path to the left brings you to Sgwd Gwladus, an impressive waterfall in its own right, whilst taking the path to the right brings you to these gorgeous falls.
Sgwd Ddwli Isaf is a two-tiered waterfall which can be accessed by carefully walking up the slippery rocks on the rivers edge, whilst Sgwd Ddwli Uchaf is a wide curtain fall which can be easily seen through taking a side spur off the main trail.
For an in-depth guide to walking the Elidir Trail, click here! 
If you need somewhere to spend the night after your walk along the Elidir Trail, you can't get much better (or closer!) than the Sgwd Gwladys Lodge. They also serve yummy pub grub!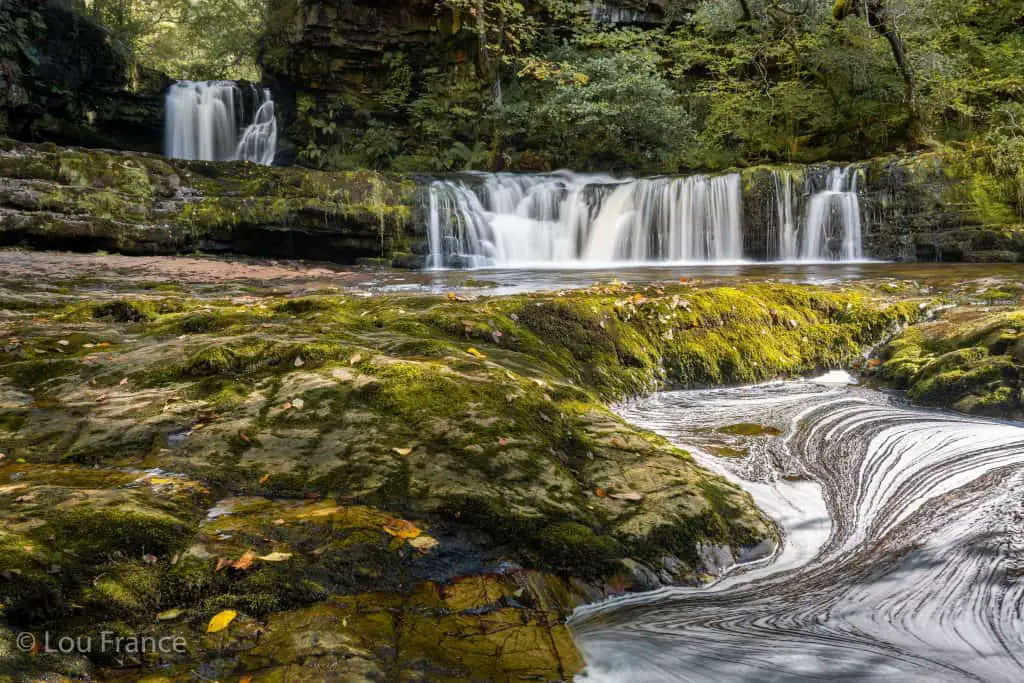 If you're enjoying this guide then please consider giving me a follow on social media.
3. Sgwd Einion Gam
Height: 21m
Accessibility: Difficult
A more adventurous hike from the Elidir trail begins once you reach Sgwd Gwladus which translates to Lady's Fall. This is a journey to reach a secret Welsh Waterfall!
From Sgwd Gwladus the path involves crossing the river multiple times and walking along eroded paths high on the river bank or in the river itself. This is only recommended for experienced hikers!
The adventure is surly worth it though, for a glimpse of the truly hidden gem that is Sgwd Einion Gam. Read more about this walk and the legend of Sgwd Einion Gam in this post or if you want a certified guide to lead you on your waterfall adventure, contact me here.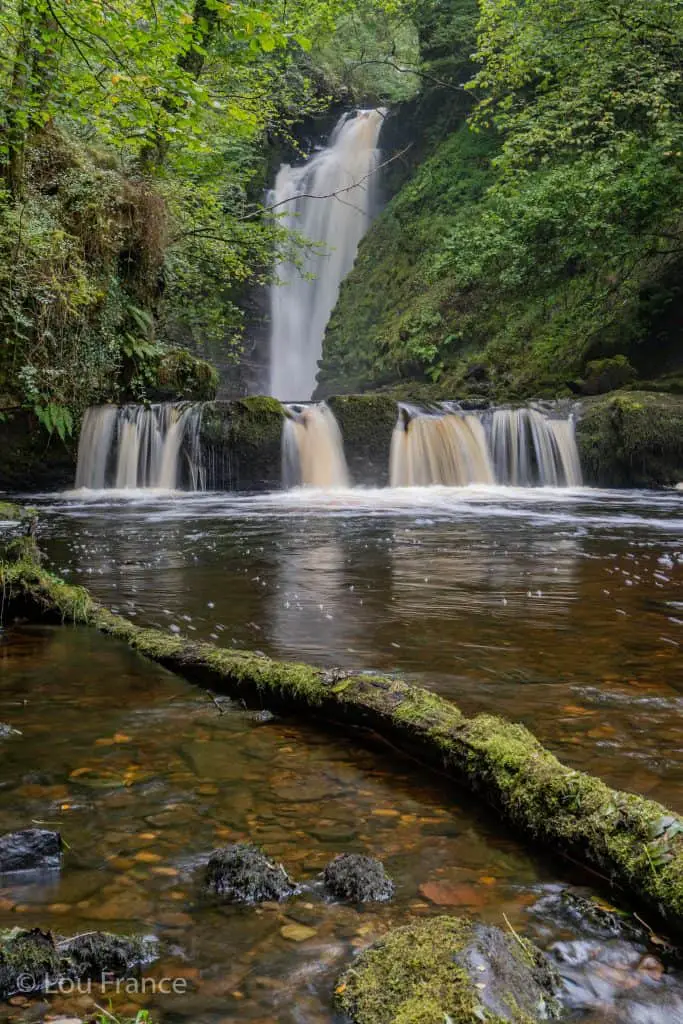 4. Cwm Gwrelych Waterfall
Height: 4m
Accessibility: Difficult
Very close to the popular Elidir trail in Waterfall Country, sits the much lesser known Cwm Gwrelych Heritage Trail. The trail starts across the valley in the village of Pontwalby and is located just outside the Brecon Beacons National Park.
There are several waterfalls along this walk, none of which have official names and all of which are seldom visited. My favourite is this one pictured below and is a genuine hidden gem of a waterfall in Wales.
You can glimpse this waterfall down in the valley after walking on the trail for around 1km. There is no designated trail to reach the base of these falls but if you do make it down to the riverside you're guaranteed to have this waterfall all to yourself!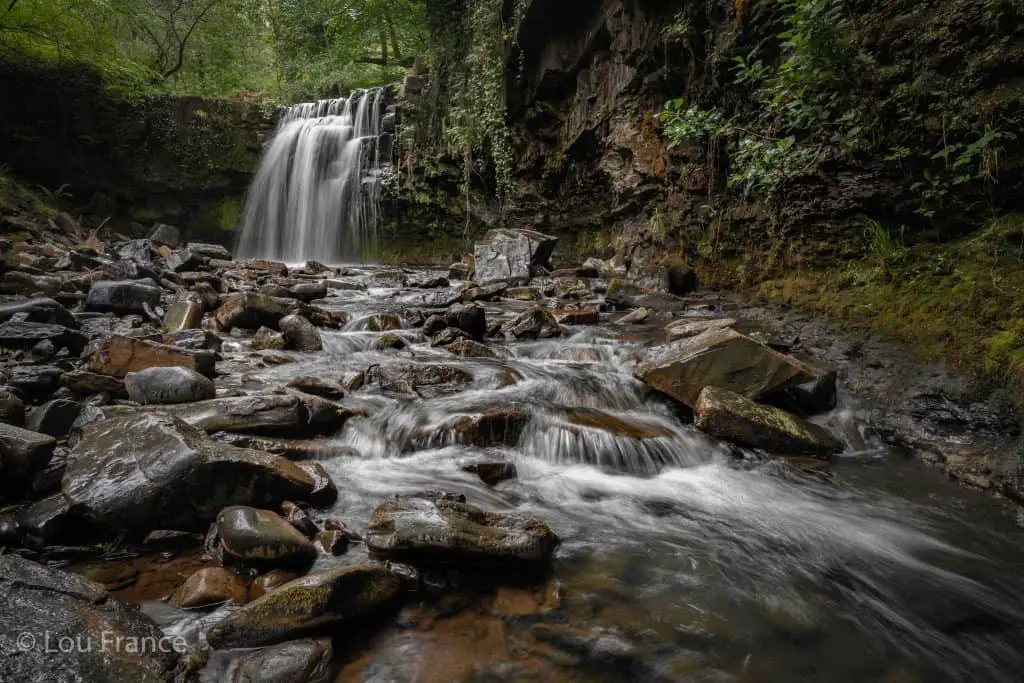 5. Melincourt Waterfall
Height: 24m
Accessibility: Easy
Another lesser known waterfall close to Waterfall Country is Melincourt. Since this waterfall again sits just outside the Brecon Beacons National Park it tends to get overlooked by tourists.
Located near the town of Resolven, a short, relatively flat gorge walk provides a peaceful visit to this secluded Welsh waterfall. The car park at the start of the walk is free to use.
There is another waterfall to the side of Melincourt waterfall and if you follow the upper trail from the car park there is also a smaller cascade found upstream from the main falls.
Resolven is just 15 miles from the seaside city of Swansea. Combine your waterfall walk with a visit to one of Swansea's many beaches or a hike along the beautiful Gower Peninsula. Click here to discover 5 amazing Gower Peninsula walks.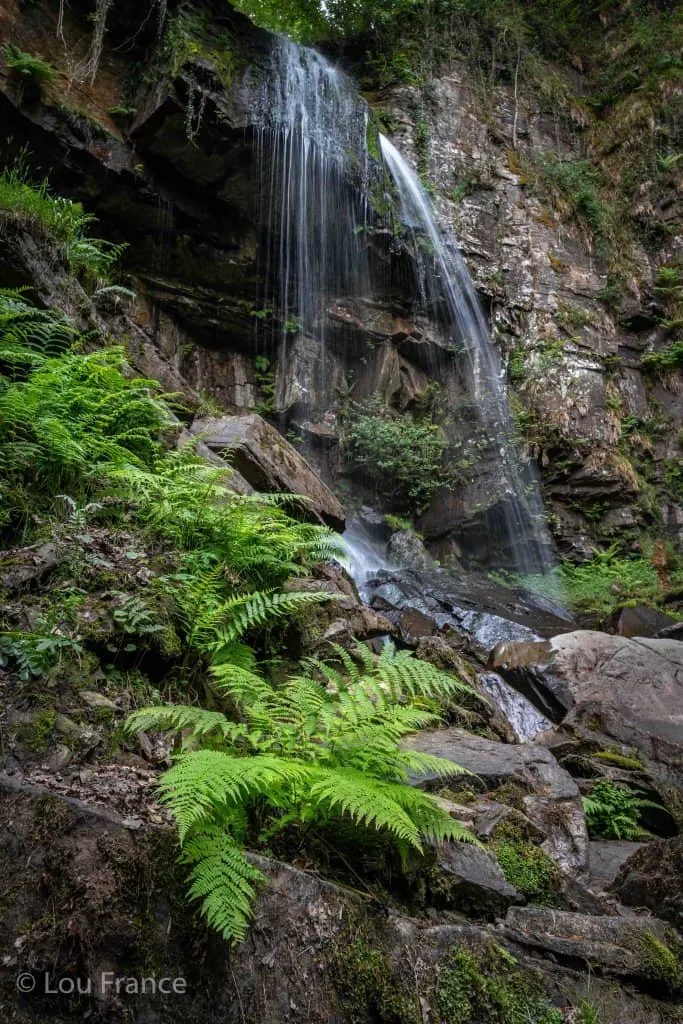 6. Henrhyd Falls
Height: 27m
Accessibility: Easy
At 27m tall, Henryd Falls is South Wales' tallest waterfall. Henrhyd falls also has the accolade of being known as Batcave, since its appearance in the film The Dark Knight Rises.
Access to this waterfall is via a short (700m) but steep path from the National Trust car park near Coelgren. The path descends through dense forest to the riverside and provides access to the impressive Henryd Falls. There is even a path that leads behind this powerfall cascade (but sadly no batcave!)
Henryd is another waterfall on this list found in Waterfall Country. Waterfall Country is an area in the western part of the Brecon Beacons and has made it on to my list of top places to visit in Wales.
Top Tip: If you have the energy, a walk to Henrhyd Falls can be easily combined with a walk along the Elidir Trail as they are just a short drive away from one another.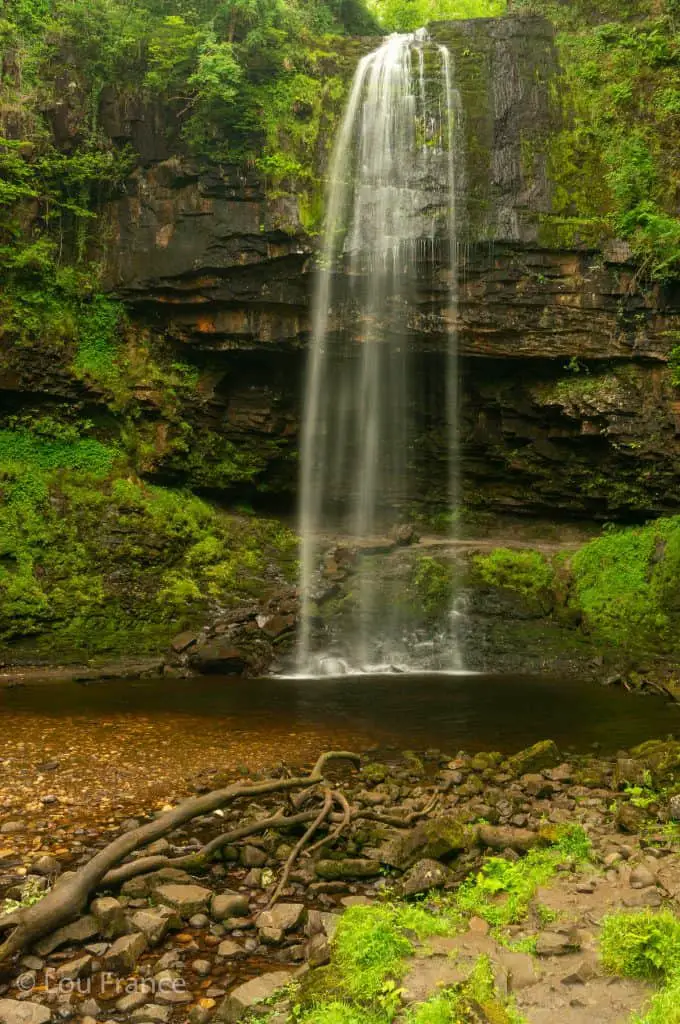 7. Sgwd yr Eira
Height: 9m
Accessibility: Moderate
Translating to Fall of Snow, Sgwd Yr Eira is probably the Brecon Beacons' most famous waterfall and climax to the popular Four Falls walk. As the name suggests, on this walk you can view multiple waterfalls through taking various side trails, before continuing along the main path.
For a detailed guide on how to visit the Four Falls click here.
This walk starts at the National Trust car park at Cwm Porth (parking fees apply) and the big attraction of many who visit Sgwd Yr Eira is the ability to walk behind this powerful cascade. This is delightfully refreshing on hot summer days but should be avoided after heavy rain when the slippery rocks can become treacherous.
The walk is easy to follow and well signposted. When the river level isn't too high, this is also a popular spot for wild swimming.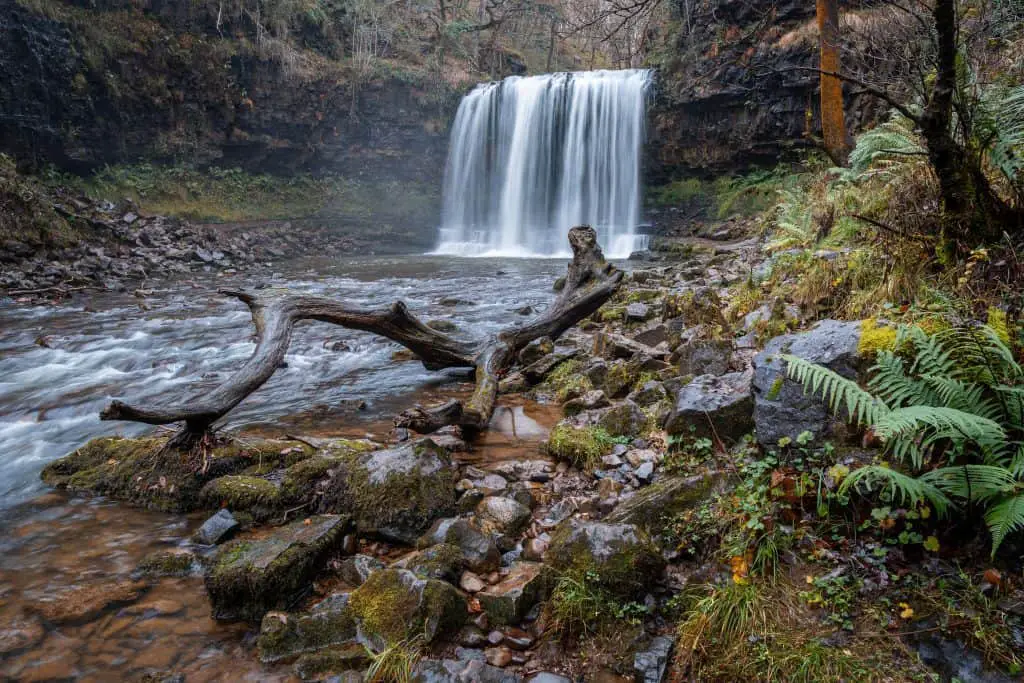 8. Caerfanell Falls
Height: 9m
Accessibility: Easy
The Caerfanell falls is one of several waterfalls that can be enjoyed at Blaen y Glyn in the Brecon Beacons. There are two car parks (both free) which allow visitors to enjoy a short walk along the river Caerfanell, admiring multiple small waterfalls along the way.
For as easy walk, park at the lower car park and enjoy a gradual walk along the far side of the river which culminates at Caerfanell Falls.
The walk from upper Blaen y Glyn can be extended to include a hike of nearby Fan y Big or the Wellington Bomber Crash Site Memorial. Both are great mountain days in the Central Beacons that avoid the crowds of Pen y Fan.
For more great walks in the Brecon Beacons, see this guide.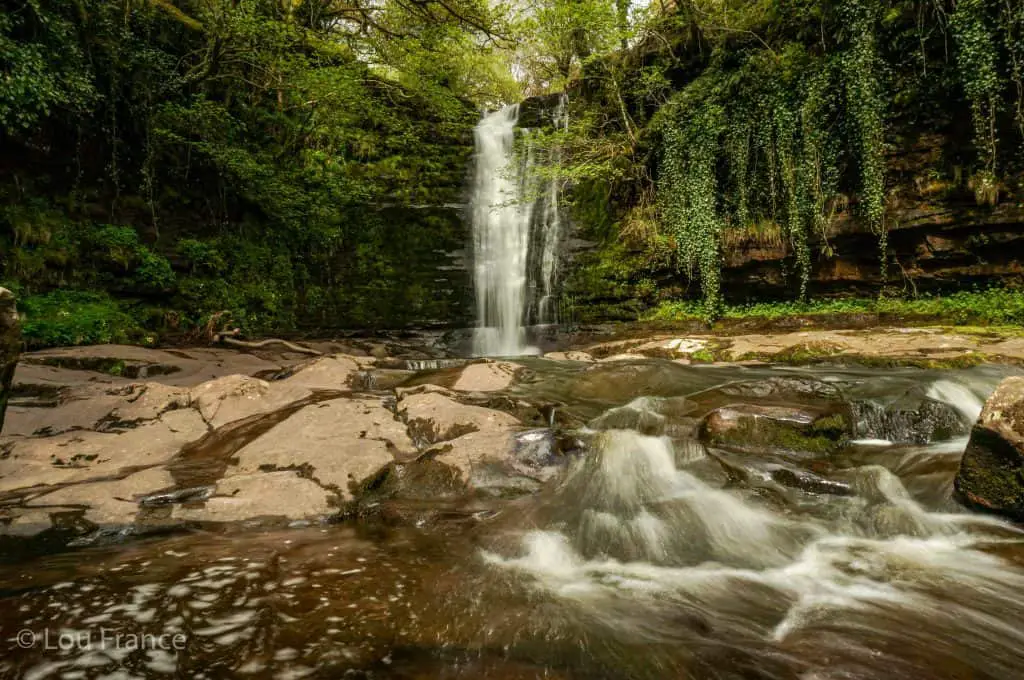 9. Conwy Falls (Rhaeadr y Craig Lwyd)
Height: 15m
Accessibility: Easy
Conwy falls is a series of falls which cascade around a central rock. The name is a little deceiving since it's not in fact found in the town of Conwy, but instead takes its name from the river along which it flows.
Found just outside Betws-y-Coed in Eryri (Snowdonia) National Park, the falls are set in the deep gorge of Fairy Glen, amongst 10 acres of ancient woodland. This waterfall in Wales is quite unusual because the flow of the river is split around a central island which will presumably will only become more pronounced over time.
There is a small entrance fee (£2) at the aptly named Conwy Falls Cafe to access the walking trail that loops down and around to a viewing point of Conwy Falls.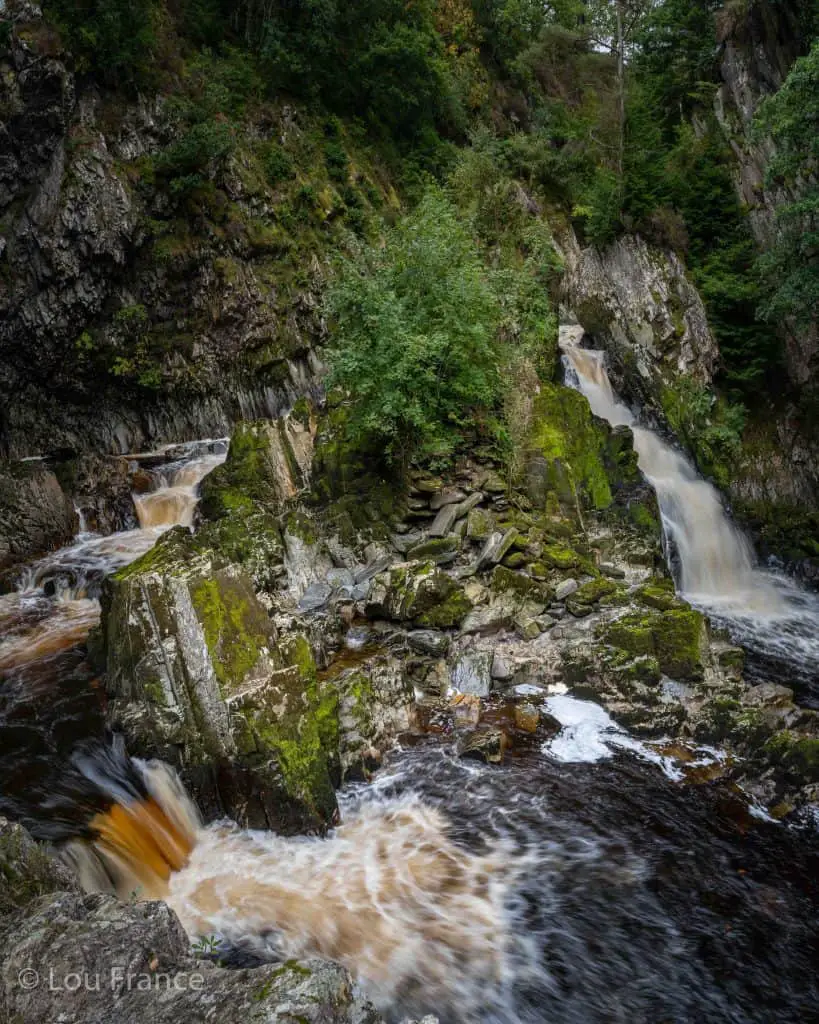 10. Aber Falls
Height: 37m
Accessibility: Easy
At 37m high, Aber Falls is worth every step of the 2km walk from the car park (parking fees apply). Aber Falls is referred to as Rhaeadr Fawr in Welsh, which literally translates to Big Waterfall. And it certainly is!
Aber Falls is located in North Wales near the village of Abergwyngregyn. Small lanes run from the village to several small, pay and display car parks. The gravel path that leads from the parking area is well maintained and once at the falls there are several viewpoints from which to admire it's thunderous roar.
For a more adventurous mountain route to Aber Falls consider hiking from Bethesda, or for an even longer adventure hike over the High Carneddau from Pen yr Ole Wen, in the Ogwen Valley.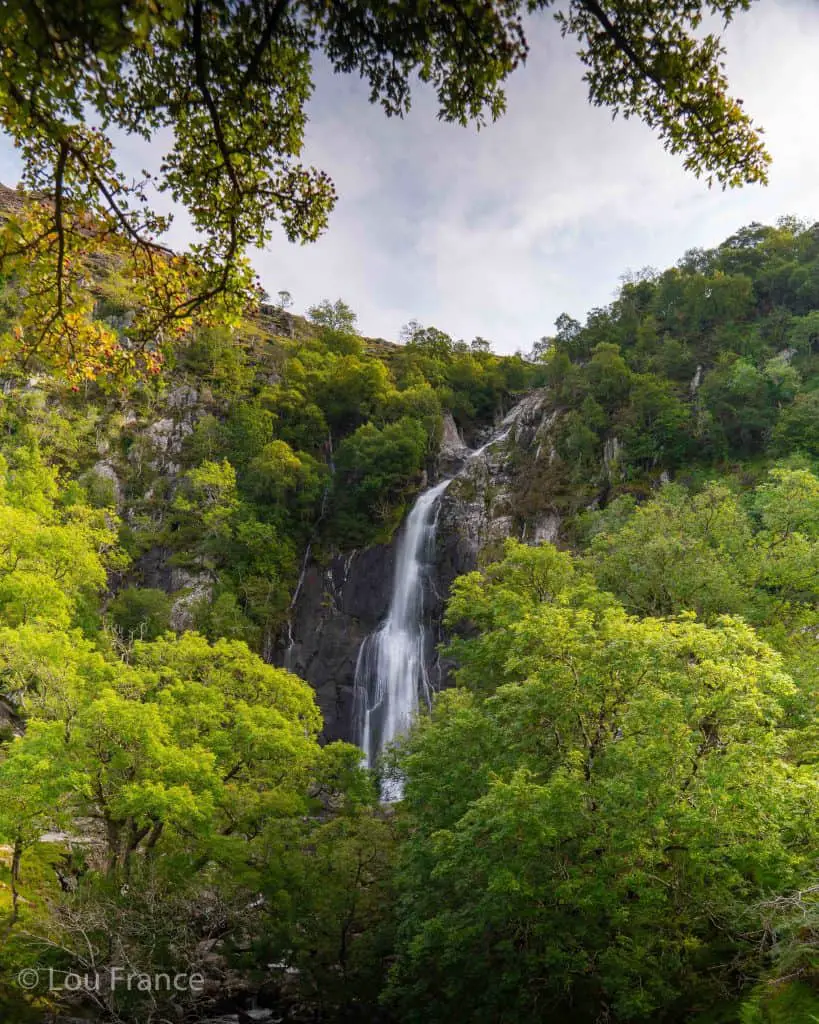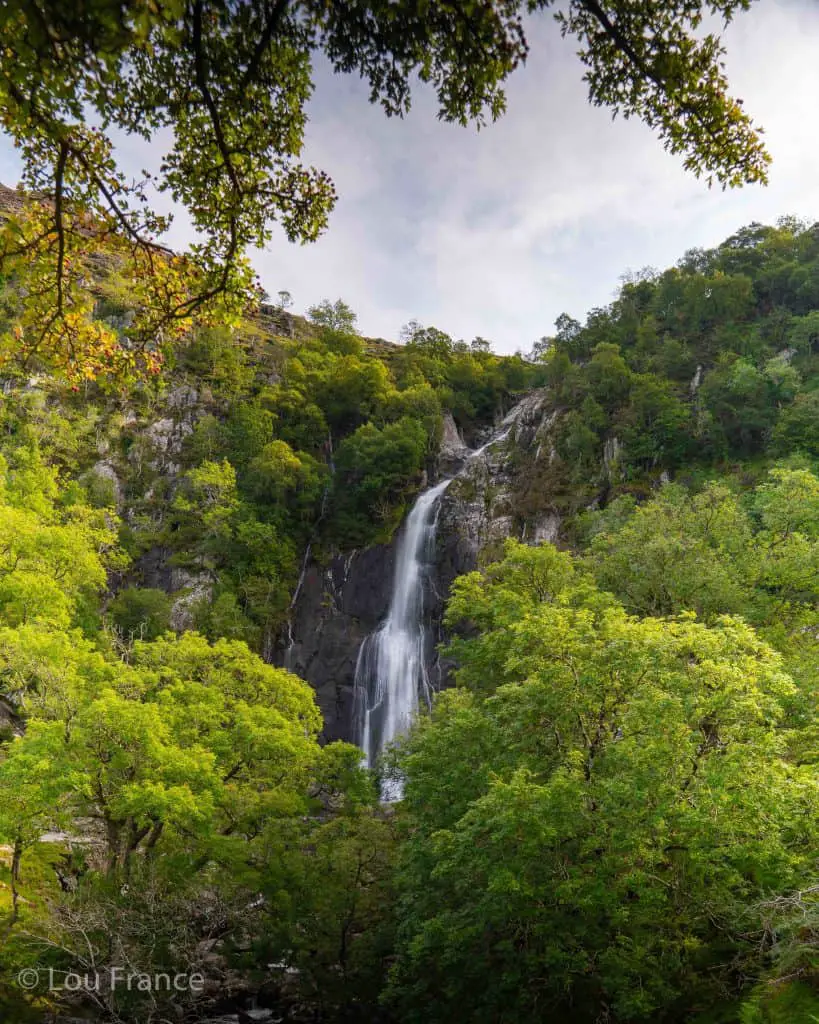 11. Pen y Fan's Secret Waterfalls (Ffrwdgrech & Nant Sere)
Pen y Fan has many waterfalls falling along the rivers which flow from its peak, however there are two waterfalls to the north of the hill that stand out. (This is a 2 for 1 deal!)
Ffrwdgrech Waterfall
Height: 3m
Accessibility: Easy
Tucked away on a single track road just north of Pen y Fan is Ffrwdgrech waterfall. Ffrwdgrech is a pretty little fall on the Nant Afon Llwch (river). There is just one small lay-by next to the bridge that overlooks the river, so access to this special place is very limited. Visiting this waterfall could be combined with a hike to the summit of the highest peak in the Brecon Beacons, Pen y Fan. 
Discover walking routes to Pen y Fan for all abilities in this guide.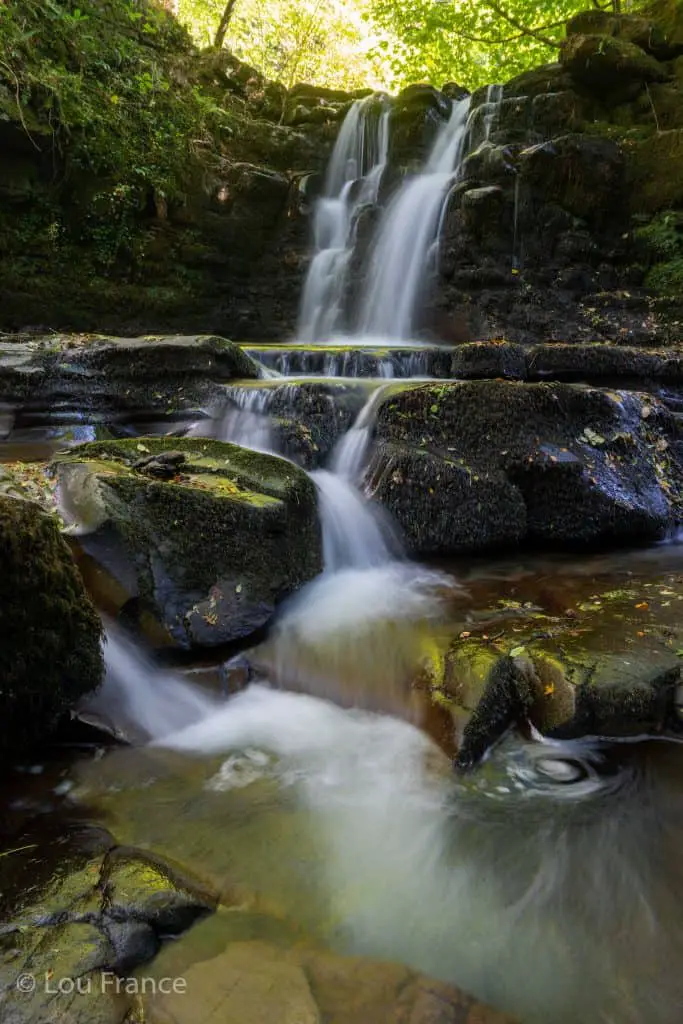 Nant Sere Cascades
Height: 1-3m
Accessibility: Moderate
The other secret waterfall on the north side of Pen y Fan involves a gorgeous 8km walk along Cwm Sere. Nant Sere Waterfalls are a series of cascades with two larger waterfalls set against the impressive backdrop of Cribyn mountain. Learn more about hiking to these waterfalls in this guide or watch the short video below.
12. Swallow Falls
Height: 9m
Accessibility: Easy
Swallow falls consists of two massive cascades along the Afon Llugwy in Snowdonia National Park. The easiest way to see Swallow Falls is via an entrance gate on the A5, which costs £2. There are several purpose built viewing platforms where you can observe both tiers of the waterfall.
However, the more interesting way to experience this beautiful cascade is via a walking trail on the north bank. The out and back trail begins in Betws-y-Coed and follows the Afon Llugwy for 3km, culminating in a view of this epic Welsh waterfall.
Betws-Y-Coed is also a great base for an adventure up Wales' highest peak, Yr Wyddfa (Mount Snowdon). Discover the best hiking route to the summit of Snowdon in this ultimate guide.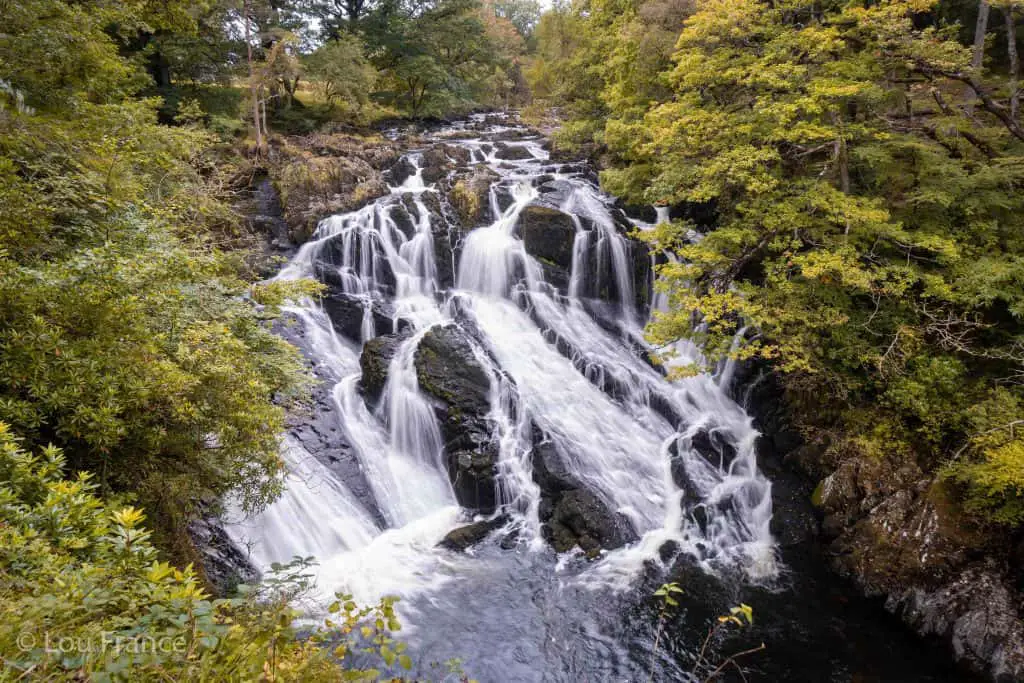 13. Rhaeadr Nantcol
Height: 3-4m
Accessibility: Easy
Nantcol waterfalls are located near Llanbedr in North Wales and are accessed from Nantcol Waterfalls Campsite. Parking fees are paid to the campsite at their cafe.
The riverside walk instantly provides a beautiful view the gorge pictured below. Continuing upstream, the 20 minute walk ends at a large cascade which tumbles over a series of rocks.
The cascade is prefect for cooling off in on a warm Summer's day and is a popular destination for visitors of the campsite. The walk is well signposted and easy to follow.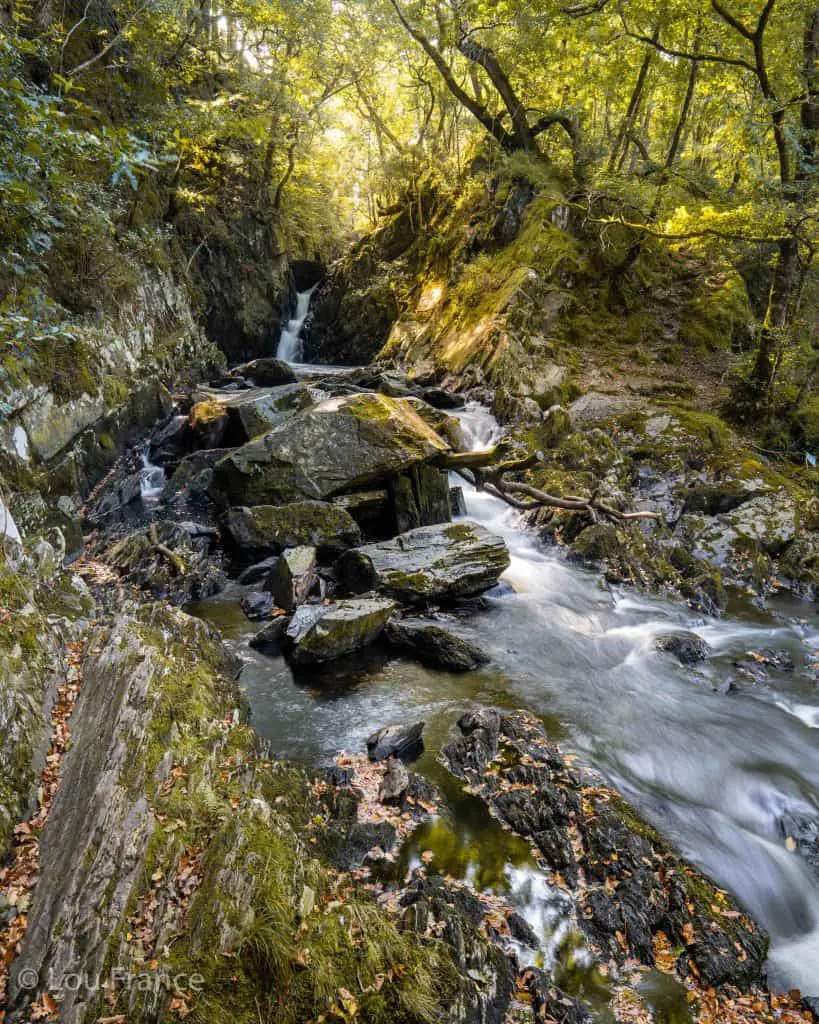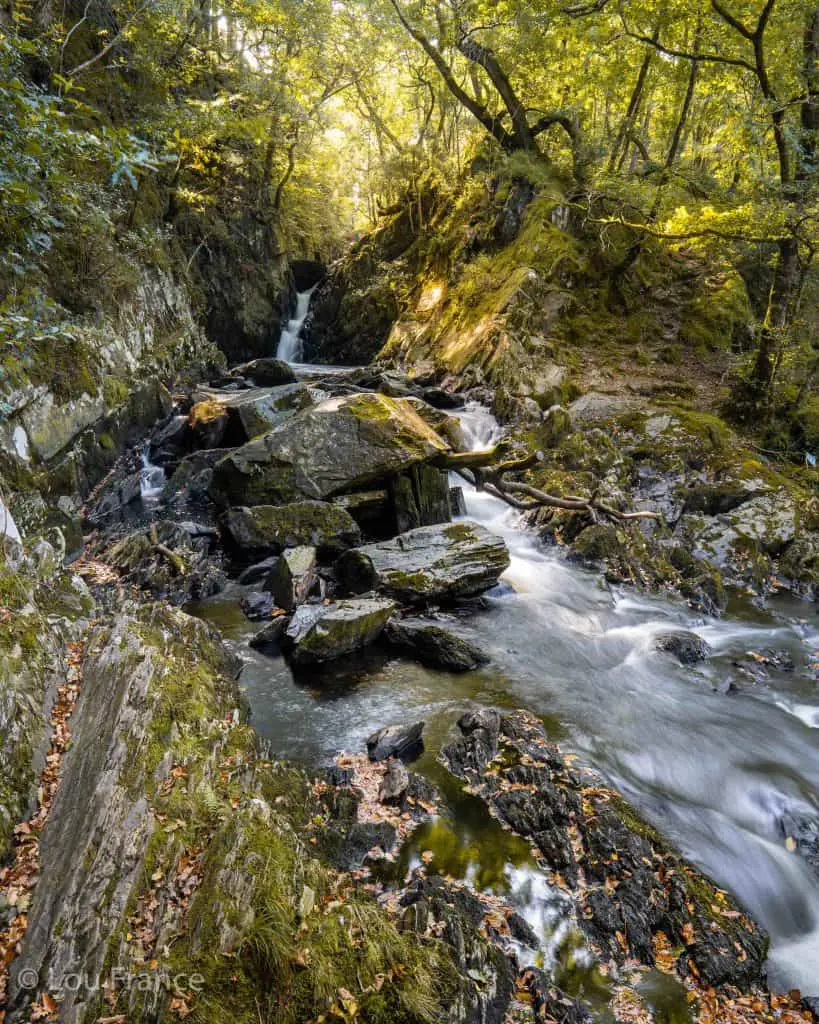 14. Rhaeadr Dolgoch
Height: Various, up to 10m
Accessibility: Moderate
The waterfall walk at Dolgoch is one of the finest on offer in Wales. This atmospheric gorge walk is located in the quieter region of Southern Snowdonia. This is an ideal, low-level walk to recover from a day spent hiking nearby Cadair Idris which is a classic hike in Snowdonia.
From the car park the riverside walk gradually ascends for 1km to a picnic site overlooking the uppermost cascade. Along the way there are two large, two-tiered waterfalls, as well as multiple smaller, pretty cascades.
The steps are quite steep and slippery in places so tread carefully.
If you love waterfalls, this Welsh waterfall walk is a must!
For more top things to see and do in Snowdonia, click here.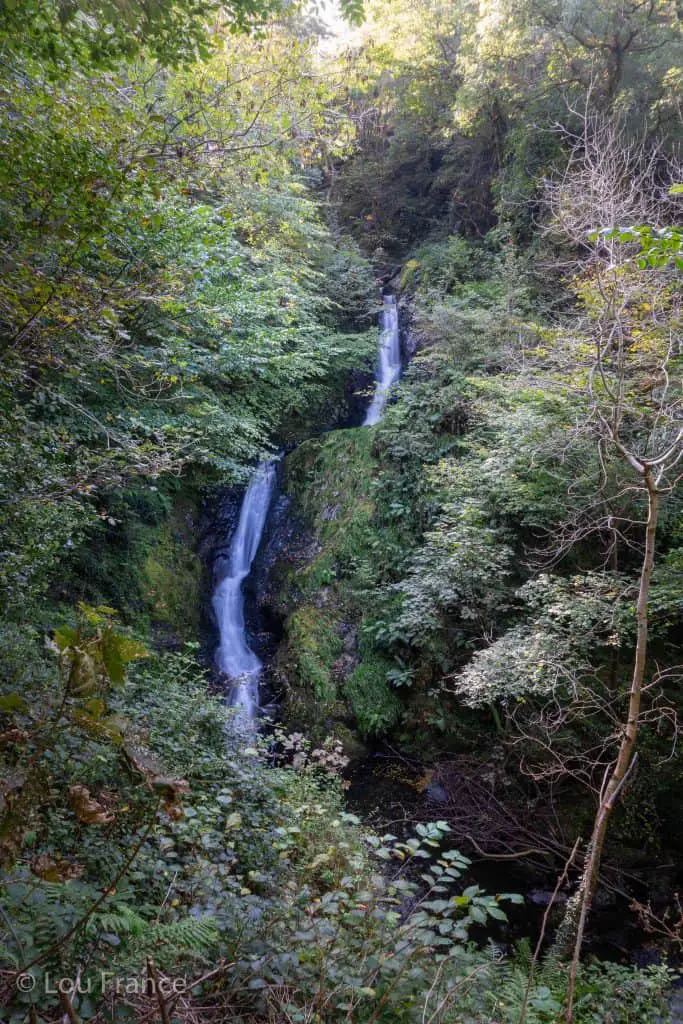 15. Cavern Cascade
Height: 3m
Accessibility: Moderate
Since this cascade is viewed from inside a cave, this is probably the most unique waterfall in Wales. Cavern Cascade is found on the Hafod Estate in Ceredigion.
The Hafod Estate provides multiple walking routes through its wooded landscapes, with fine views of multiple cascades, the best of which is arguably Cavern Cascade. Parking is free but trail maps can be purchased by making a small donation.
The trails are well maintained and easy to follow but I do suggest picking up a trail map.
Note: Rocks to the cave entrance have become unstable and entry is now not recommended until it is made safe. The waterfall can still be viewed by walking around the side of the cave.
Transport To These Welsh Waterfalls
Most of the waterfalls on this list are found in remote locations and are not serviced by public transport. The best way to visit the waterfalls is through using a car. For good deals on rental cars in the UK, try Rental Cars.
Essential Items For A Waterfall Walk In Wales
Discover everything I pack for an adventure in the Welsh countryside in this guide.
Like It? Pin It For Later!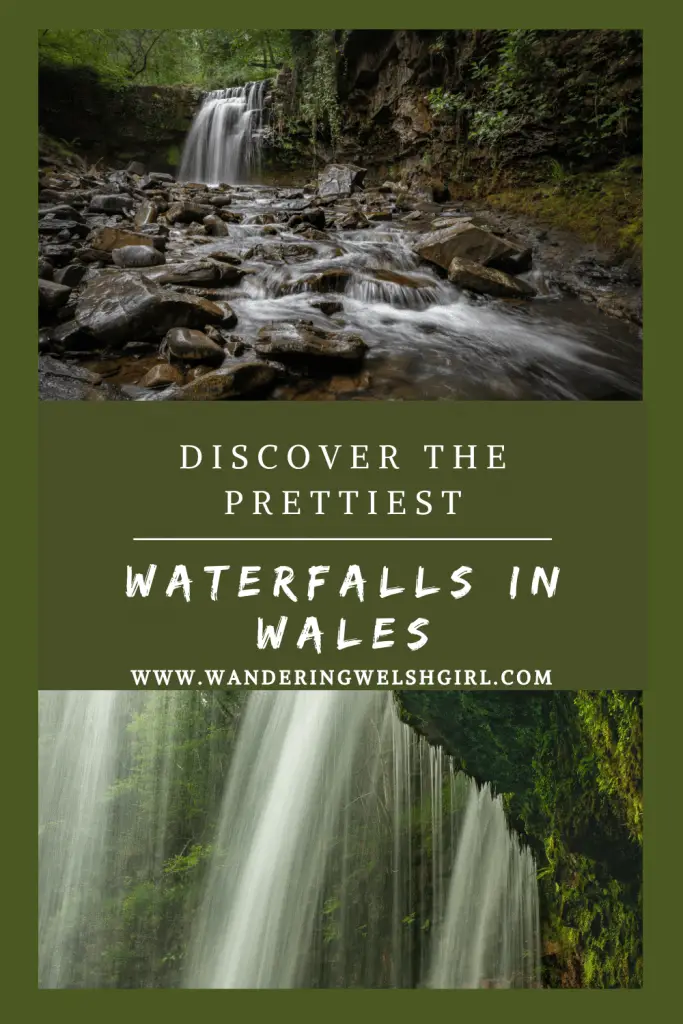 Join My Newsletter Today & Receive 10% Off Any Photography Print!