In this guide I describe the 21 best campervan accessories to make your van life a more enjoyable experience.
We've been living full time in our van for two years and over that time have gained a pretty good idea of what camper accessories make van life a more comfy experience.
It probably goes without saying the things that make the biggest difference to our van lives are serious modifications such as a shower, fridge, cooker, toilet, hot water system, heater, awning and solar energy system.
But for the purposes of this list I'm talking about the little things in life that make a big difference. Accessories that help save on space, time and energy, allowing you to make the most out of exploring the great outdoors. 
So, let's jump straight into it!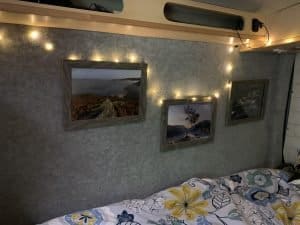 Disclaimer: Some links in this article are affiliate links, which means that if you purchase through them I receive a small commission, at no extra cost to you. This helps cover the cost of running this blog. Thanks for your support!
The 21 Best Accessories For Campervans
1. Levellers
If you want a good night's sleep, your van needs to be level. If you are forced to park on a slope, you end up tossing and turning all night, unable to get comfortable. However, with levellers this doesn't need to be an issue at all and this makes them a top camper accessory.
Just find a place where you want to park and then use the levelling chocks to make sure your van is level. Less time is wasted analysing the flattest spot in the field and more time is spent on good quality sleep.
To help us determine if we're actually level rather than relying on how the van looks, we use this cute magnetic mini spirit level. Attach it to a long stick for best results.
2. Fire Extinguishers
Fire extinguishers aren't really an accessory, more of a campervan essential. If like us, you have a cooker in your campervan, a fire extinguisher should be readily available in case of emergency.
Powder fire extinguishers are the most suitable for kitchen based fires and are therefore the best option for your van.
3. Insulated Blinds
Insulated blinds have multiple functions which is always a winner when it comes to the best accessories for campervans.
Firstly they block out light allowing a decent night's sleep. In the peak of a UK summer the sun rises at 3-4am so keeping the van dark for a few more hours allows us to get some quality sleep.
Secondly, the blinds provide privacy from prying eyes and thirdly they provide insulation, keeping heat in on cold days and keeping heat out on sunny days.
4. MPPT Charge Controller
Ok, so I know a charge controller is linked to the solar energy system, which at the beginning I stated was a big modification, however I want to emphasise the importance of a GOOD charge controller.
Having initially cut costs through buying an imitation PWM charge controller I can safely say, spend the money and get a real MPPT! A high quality charge controller with a smart charging algorithm will be up to 30% more efficient, making it an awesome van conversion accessory.
You'll definitely be grateful for this if you plan to spend a lot of time living off-grid.
Top tip: There are several components that make up a great solar energy system. These include the solar panel, a charge controller and quality leisure batteries.
One of the biggest energy demands, if you plan to live off-grid, will be your campervan fridge. Learn more about choosing the best campervan fridge for you in this ultimate guide.
5. Water Filling Caps
This is without doubt one of the best modifications we've made to our van.
Our van came fitted with two fifty litre water tanks – one hot water, one cold water. These plastic water tanks are fitted underneath our bed/seating area. This meant to refill the water tanks we had to remove the bed boards and cushions and feed a hose pipe through the back doors and into the top of the tank.
After one fill, we quickly realised we would get very frustrated with this!
So Nick drilled two holes in either side of the van and attached caravan water filler caps (which look just like petrol caps). He attached a hose from the water cap which then fed into the tank via a tank connector.
Since then, to fill our water tanks we simply open the water filling cap, pop in the hose and wait for it to fill. Easy!
Related Reading
6. Spice Rack
We both love food and our go-to one pot dish is usually a curry of some description. Therefore spices are a must in our van. Our selection of spice containers quickly filled our limited cupboard space, so we needed a better space- saving solution.
I spotted these magnetic spice racks decided to give them a go. I wasn't sure if the magnets would be strong enough for driving but after putting them through their paces I can safely say the magnets hold firm. We quickly bought a second rack and installed it in prime position above the cooker.
These magnetic spice racks are a real cool camper accessory!
7. Fairy Lights
Fairy lights are probably a bit of a van life cliche but if it's not broke, don't fix it. The LED lights in our van are bright and efficient but they don't create a nice ambiance. Our fairy lights provide a much softer light for the evenings.
Fairy lights are cheap and easy to fix almost anywhere in your van. These fairy lights are attached to copper wire which makes them easy to bend into any shape, they're waterproof and they have different lighting modes varying from soft and steady to party twinkles!
8. Comfy Camping Chairs
Van life works best when the sun is shining and time can be spent outdoors. Comfortable outdoor chairs are therefore a campervan essential.
Having spent seven years travelling the world in overland trucks which are kitted with robust but uncomfortable stools, having something comfortable to relax in has been a game changer!
There are cheap foldable camping chairs which do the trick but I would suggest spending a little more and getting ones that are properly made. They're much more comfortable than the real budget chairs and are a better investment since they last longer.
9. Stackable Cooking Pots
Space is a premium in campervans, so items that can pack away into confined areas are well worth investing in. There are lots of great camper kitchen accessories out there, but our pots and pans fit snuggly into one another, making them easy to store without taking up too much space.
Teflon pots and pans may be more expensive but the non-stick actually stays non-stick, which makes the chore of washing-up a much more pleasant experience.
10. Slippers
It's all too easy to trample mud into your campervan as you move from outside to inside, so one simple rule is to have a no-shoe policy in the van. In the summer months this is an easy rule to follow however in the winter months cold flooring makes it quite uncomfortable, especially if you're in the UK like we've been.
We have insulation underneath our flooring and we have rugs over the top but even with this, the floor can be very cold. Warm slippers may seem a bit middle-aged but they are the perfect campervan accessory to combat cold floors in winter.
11. P
ressure Cooker
Pressure cookers are awesome! I first discovered the joys of pressure cookers when cooking food at altitude. At altitude, cooking times can easily double, so this is where pressure cookers make a huge difference.
However, even if you don't plan to travel to far flung, high-altitude destinations in your van, pressure cookers will still make a big difference to your cooking times. 70% less time in fact.
Less time cooking means more time exploring the great outdoors, so do yourself a favour and add this to your campervan equipment list!
12. Power Inverter
Most gadgets these days can be easily charged from USB ports but there are some things that require a bit more oomph! The biggest gadgets for me that require more power are my laptop and my drone. This is where I need an inverter to change 12V DC power to 230V AC power.
So if you have gadgets that require AC power, an inverter is an essential van accessory.
There is a big energy loss when converting power from DC to AC, so just be aware of this when calculating how much power you need for your solar energy system. For a complete guide to choosing an inverter for your van, see this article.
13. K
indle
One of the joys of van life is the amount of time you can dedicate to relaxing hobbies such as reading. At home it's all too easy to sit in front of a TV or computer for hours on end, however this isn't as much of an option with van life.
I love getting stuck into a good book but with limited space in our campervan, a Kindle makes so much more sense. Battery lives on Kindles are extremely good, much better than an iPad for example, making them energy friendly too.
There are lots of free or cheap books available to purchase through Amazon or if you're a real book worm Kindle Unlimited is a great option.
14. Kettle
I guess most people will include a coffee press of some description in their ultimate campervan accessory list, however I'm more of a tea girl.
So for me, a kettle is a must.
Electric kettles use a lot of energy so stick to good old fashioned stove kettles. Our whistling kettle has a handle which folds to one side making it easier to store.
15. Water Containers
Again this is a must-have accessory, rather than an option for your van if you are producing grey water.
Campervaners who let their grey water drain directly onto the ground give the rest of us a bad rap. So do the right thing and dispose of your grey water correctly by collecting it in a camper-friendly container.
These camper friendly water containers have caps on the side for collecting and caps on top for draining.
16. Inflatable Kayak
Indulgent? Maybe. Tons of fun? Definitely!
We have a two person inflatable kayak that packs down to a reasonable size. If you're struggling for space it might not be an option for your van, but if you do have room it's definitely an incredibly fun campervan accessory to have. We've had great times exploring the coasts as well as inland lakes and reservoirs.
If you're not a fan of kayaks you could also go for an inflatable paddle board, although these are much more expensive. 
17. Blanket
Cozy blankets come in handy as extra layers for cold nights in the van but also to take the chill out of cooler nights around the campfire. I love getting wrapped up in my blanket and it also acts as a pretty bed throw.
On the subject of keeping warm, check out my guide to the best diesel heaters for campervans and top tips for surviving winter van life.
18. Fabric Storage Boxes
Fabric storage boxes can squeeze into odd shaped compartments, they collapse down to flat when not being used and are portable.
These unique factors make them really useful accessories for campervans and if I designed my van again, I'd definitely include more of them.
19. Hammock
When the option is there to put up a hammock, I'll jump at the opportunity. There's no better way to spend a couple of hours than kicking back in a hammock with a good book. My hammock is a double nest which means there's even room for Nick to fit in with me….just about!
A good hammock is a great accessory to your campervan life. Be sure to get a hammock with robust straps and carabiners needed to hang it from suitable trees! 
20. Portable Wifi Device
One of the great things about exploring in our campervan is getting away from it all and escaping the constantly connected world we live in. However, if you work online and your income is reliant on a good internet connection then a portable WIFI device is a sound investment.
Using a SIM card connected to any service provider, a portable WIFI device will allow multiple devices to connect to the internet. If you want to stream movies and TV shows abroad, don't forget to use a VPN. We use Surfshark because it's the best value VPN and allows use on unlimited devices. This means we can watch Prime Videos or Netflix on any device, where ever we are.
I use this Huawei mobile hotspot and it works well, even when there is poor signal on my mobile phone.
21. Dutch Oven
If, like us, you love to cook over the open fire, then a Dutch oven is a must. We don't have an oven in our van so do most of our cooking on the hob. However, whenever the opportunity arrises to cook over the fire we break out the Dutch oven and get creative with our cooking!
Dutch ovens are pots typically made of cast iron with a tight fitting lid. They can be used to roast joints of meat, make stews and curries or even bake cakes.
For more information on Dutch ovens, take a look at this post.
And that completes my list of must-have campervan equipment. Do you have anything that you would add to this list?
Join My Newsletter Today!