Fitting a solar system on your campervan or motorhome is an ideal solution for off-grid living, festivals or adventurous road trips. We all have become hugely dependant on electricity for our modern lives to some degree, so we all need power at some point.
There are two main types of solar panels that we can use on campervans or motorhomes and these are rigid and flexible panels. There are pros and cons to each type and considerations for making your choice will include budget, roof space, weight and power requirements.
Fitting solar panels to a campervan or motorhome is a relatively straight forward task for anyone with a little DIY ability or practical skills, and there are plenty of resources available online that demonstrate how to install a great solar system.
In this post I will discuss the different types of solar panels available in order to help you decide which is the best option for you.
Considerations When Choosing Solar Panels For a Campervan
How much electricity will I need

?

 

This will determine the size and output of panel required and how many panels you will need. Incidentally, it is also crucial information for deciding the type of charge controller, size of cables and battery capacity. To determine this, the best way is by using an online calculator such as this one by Renogy.
How much space is available on my van for fitting panels? The roof on your van may already have some roof vents, TV antenna or even a pop-up roof, so measuring the available space will give you a good idea of what is possible when it comes to solar panels.
How am I going to fit the panels? This may be determined by the design of the van itself. There are several methods to consider such as bonding or bolting and a choice of brackets are available too.
Do I have other sources of power

?

 

You may plan to camp in organised campsites with a hook-up or you may have a split-charging system which allows you to charge your system whilst driving. This may influence the size of panel you pick.
Future proofing my solar system. It is highly possible that sometime down the road you might change the way you travel, for example head off on winter van trip, or add an appliance to your van such as a larger fridge. For example, in 2022 we headed to Turkey and Georgia for winter and found our solar system wasn't sufficient during the shorter days without driving to top up. (Not to mention snow often covered our panels!) However, our issue was mostly that of storing power, which can be fixed by adding a high capacity lithium leisure battery.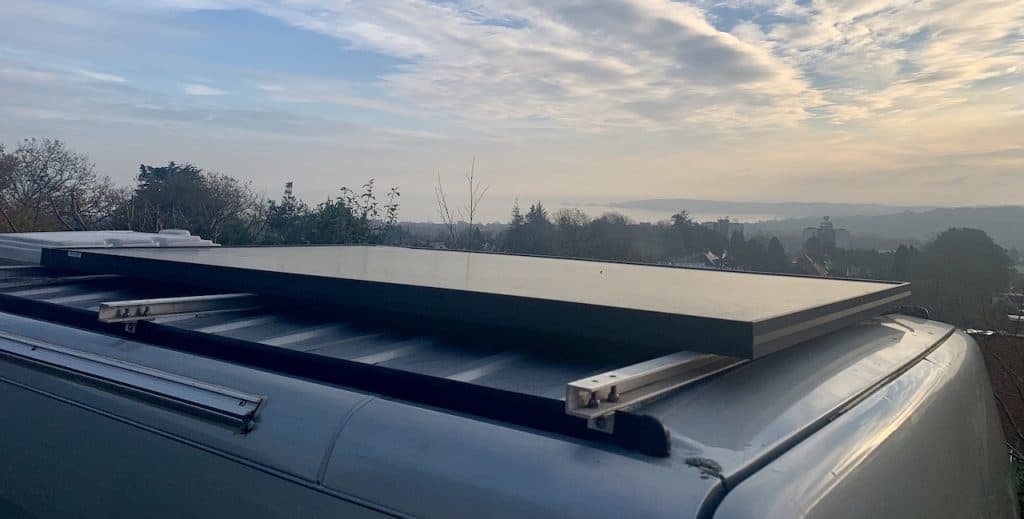 Types of Solar Panels
There are so many solar panels on the market these days and the technology is developing rapidly.  For use on campervans, motorhomes and RV's solar panels will generally be either flexible or rigid in design. Although we will also touch on portable solar panels in this post too.
All solar panels convert sunlight into electricity in a very similar way. The difference between them comes in the methods used in their manufacture and this produces the rigid or flexible result.
When considering fitting panels to our campervan, we need to consider the pros and cons of each option. Either are potentially a good choice so it may all come down to which one you feel more confident to install or which will look better on your van.
Flexible Solar panels
These panels are available as flexible and semi flexible options. The prime difference being flexible ones are able to attach to tighter curves than the semi flexible ones. These panels are generally easy to fit as they can be simply bonded to most surfaces, for example the roof of your van.
Pros of Flexible Solar Panels
Flexible – they can fit on flat and curves surfaces.
Aerodynamic – the panels have a low profile so don't produce much drag.
Discreet – they fit flat against your vehicle so are potentially less visible.
Light – they are the lightest option available which is ideal if weight is a priority in your van built.
Easy to fit -these can simply be stuck to most surfaces such as the roof of your van using a suitable adhesive or specialist tape.
Available in a choice of sizes/output.
Cons of Flexible Panels
They are less efficient than rigid panels, especially in high temperatures.
The power output is not as high as rigid panels.
They are harder to angle towards the sun and therefore less efficient.
They are more expensive than rigid panels.
Flexible panels are less hardwearing than rigid ones.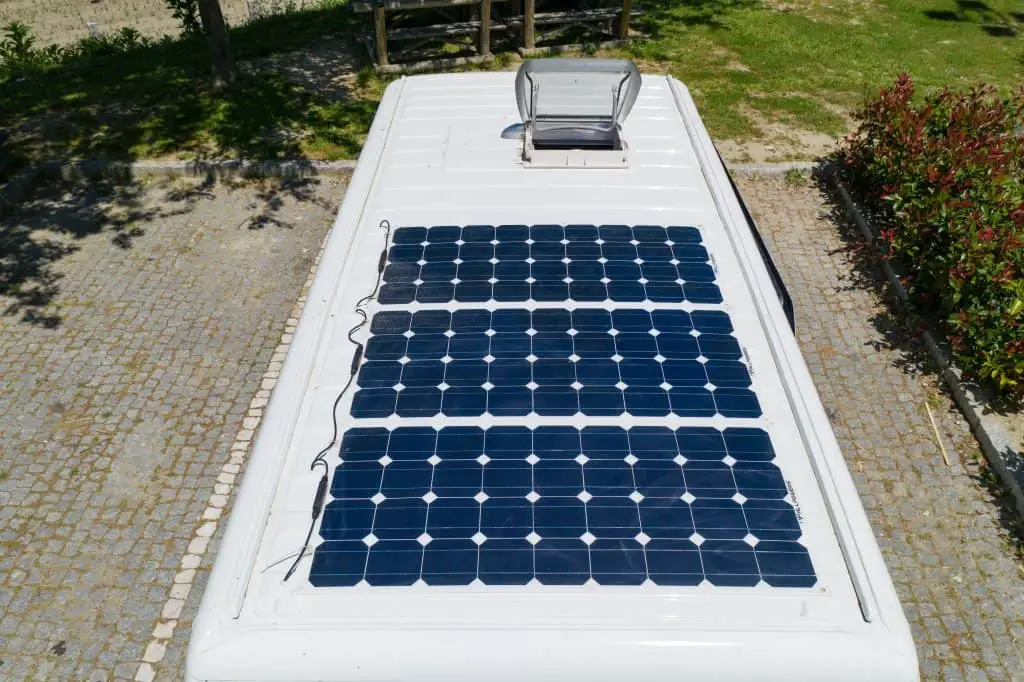 Mounting Flexible Panels
Flexible solar panels can easily be mounted to your van using a high quality PU adhesive. Try Sikaflex or Soudaflex. Another great option is super strength 3M VHB tape and in this case seal around the edge of the panels with PU sealant too. It's important to be aware that this method requires the paintwork to be of a high quality and is semi-permanent(ie very hard to remove if you change your mind).
Flexible panels may prove difficult to fit to some steel van bodies which may not offer a completely flat surface for mounting. It's also worth noting that flexible panels do loose efficiency in extreme heat, so when mounted on a metal van roof in full sun they will be less efficient than the rigid panels.
Why Choose a Flexible Solar Panel?
When weight is at a premium. Campervans can notoriously become very heavy with added equipment and luggage so keeping the overall weight down gives you a better chance of keeping within legal weight limits and will be better for fuel consumption.
When you prefer a streamlined look to your van. When mounted on the roof of a van these panels are usually invisible.
These panels are ideal for mounting to custom built motorhomes and RVs where the roof (or side) of the van body is completely flat.
The Best Flexible Solar Panel for Campervans
Renogy offer a quality 200W flexible panel that comes with good product support and a 25 year guarantee. If you're looking for the best flexible panel, this is the panel to pick. For more output you may need to fit two or more panels.
Rigid Solar Panels
These are basically the same type of panel as you might fit to your home or garage. They are sturdy and modern ones are getting more and more efficient by the day. These are relatively straight forward to fit and come in a variety of power outputs and sizes.
Be sure to look for Monocrystaline rigid panels as these offer better efficiency, especially in low light (compared to Polycrystaline and flexible panels)
Pros of Rigid Solar Panels
Sturdy – they have a long lifespan if looked after (5 times longer than flexible panels)
High output and efficiency.
Easily upgraded – metal frames can be moved or adjusted.
Readily available.
Cost effective – generally cheaper than flexible panels.
Best performance of any panel when fitted angled towards the sun.
Cons of Rigid panels
Heavy – they are not ideal if weight is already an issue in your campervan.
Not as easy to fit as flexible panels.
Possible increase in fuel consumption due to drag.
Mounting Rigid panels
Many types of bracket are supplied for use with Rigid panels. These can either be bolted or bonded onto the roof of your van. (Sikaflex, Soudaflex, 3M VHB) To increase efficiency, angling the panel towards the sun is also possible. The brackets that allow this are best suited when parked up for longer periods or for a static caravans (Just be aware that you will have to climb on the roof to operate these and be sure to put them back down before driving off!)
Bonding a rigid panel directly to the roof of the van is also possible but the use of brackets does allow for the panel to be more easily moved or upgraded in future.
Here are a few suggested brackets to consider:
Why Choose Rigid Solar Panels?
Choose a rigid panel if you want a lot of power for the lowest cost or if you want a panel that will last for many years to come. Rigid panels are also a good option if the roof of your van isn't suitable for flexible panels or if you plan to spend the majority of your time in very hot climates.
The Best Rigid Panel For Campervans
Renogy offer a quality 200W rigid panel that comes with good product support and a 25 year guarantee. For more output it may be necessary to fit two or more of these. 
If you require more power you can always fit multiple panels to your van. If on a budget and are looking for a good quality and powerful panel all in one, then try the Canadian Solar 410W. Canadian Solar are solid brand when it comes to solar panels and produce quality products.
We fitted an earlier(less powerful) version of this panel to our van and it has been great for 3 years. For a full review of this panel and the others in this list, see this solar panel guide.
Portable Solar panels
Portable solar setups are improving year on year and provide a great alternative to fixed panels.
Pros of Portable Solar Panels
Versatile – these can be used in several areas such as in your garden, boat or van.
Easy to install – simply set them up facing the sun and plug into your charge controller and battery setup.
Lightweight.
Great for occasional trips and car camping where fixed panels aren't possible or practical.
Portable – these panels pack down to the size of a briefcase and are easy to transport.
Great option when used in conjunction with a Power station such as a Jackery.
Cons of Portable Solar Panels
Setting up and packing away can become a daily chore.
Takes up space inside your van when not in use
Potential for damage if not stored securely.
Can only use once parked up.
May still need a charge controller and battery.
Why Choose Portable Solar Panels
This setup is perfect if you want a truly portable system which you can use for other applications other than solely you van. These panels typically pack up into a bag or case to be stowed inside your van when not required.
They may also be ideal if your van doesn't have roof space for a fitted solar panel, for example if you have a pop top. Or perhaps you have a fixed panel but need some extra power to top up your system.
To use these panels they are simply unpacked and positioned in the sun using the stands they are supplied with. You will however require sufficient cable in order to connect to your charge controller, which I suggest is a fool proof way of plugging them in correctly.
Alternatively they can be used with a power station, for example a Jackery or Bluetti which allows for solar input or get a kit containing portable panels(see below)
The Best Portable Solar Panel For Campervans
For the ideal portable solar panel setup consider this one from Jackery, which includes a 1002WH power station and 2 100W solar panels.
Some Useful Solar Panel Tips
Being able to angle panels towards the sun will improve efficiency.
Keep the panels clean for optimum power output. 
Snow renders any panel useless.
Be sure to pair your panels with a good quality MPPT charge controller for optimum performance. Learn more about solar charge controllers in this guide.
If you use your Solar panel regularly then consider investing in a good quality Lithium battery.
You may find a complete kit online which offers good value for money.
If you require other equipment for your solar set up such as a charge controller, battery or wiring we recommend Renogy as they offer good customer service and good quality products.
Read Next
Final Thoughts On Flexible vs Rigid Solar Panels
Solar panels are one of the key components to a solar system for your campervan, motorhome or RV. There are many points to consider when choosing between rigid and flexible solar panels. 
If budget and space allows, then flexible panels will offer the least visible and most streamlined option for your van, although you may need to fit multiple panels in order to meet your power requirements. Flexible panels are best suited to motorhomes or RV's with flat roofs for mounting. They are slick, light and powerful.
Rigid panels offer the best bang for your buck and there are a few different mounting options. They are easily upgraded, efficient and should last for many years. However, they are heavy and bulky so are not so good where weight and aerodynamics are a concern.
Portable solar panels are perfect for those who aren't able to have a fitted panel, those who want a panel for multiple applications or those who need an extra bit of power to top up their current setup.